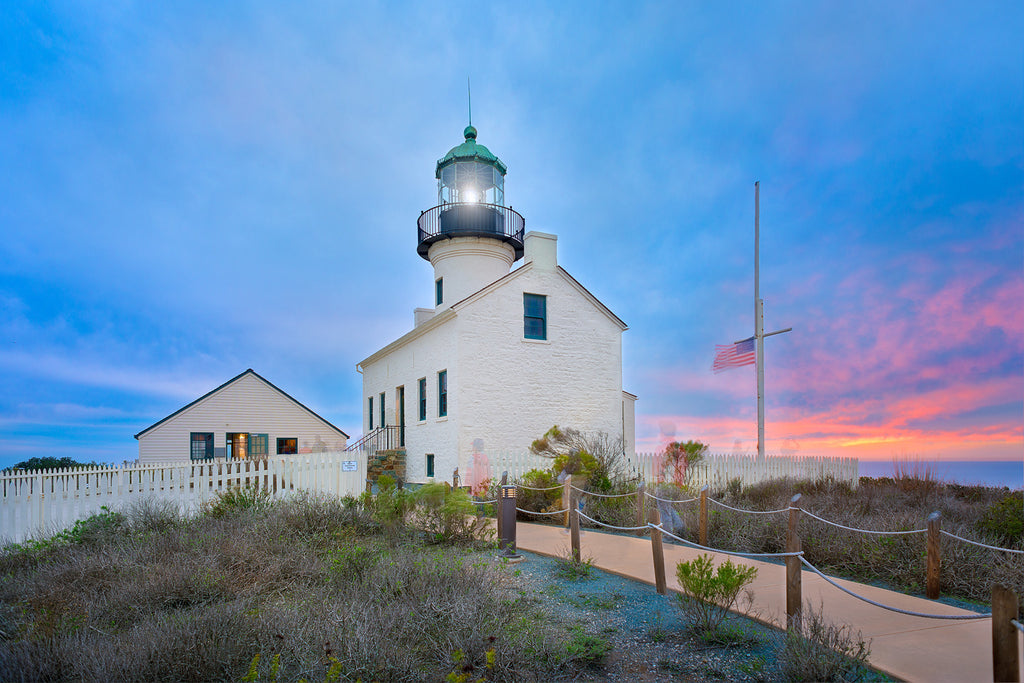 The Old Point Loma Lighthouse
On September 28, 1850, just 19 days after admitting California to the Union, Congress appropriated $90,000 to construct lighthouses along the California coast. Point Loma was one of six to be built.
The contract was given to the Washington, D.C. company Gibbon and Kelley. The local supervisor was William J. Timanus.
Construction was begun in April 1854, when a shipment of materials arrived from San Francisco. The lantern and lens had to be ordered from Paris and arrived in August 1855. The lighthouse was completed by October 1855 and was lighted for the first time at sunset November 15, 1855. It was designated light number 355, of the Twelfth United States Lighthouse District.
When the lighthouse was constructed, an additional small structure was built next to it. This building was originally used as a storehouse for oil, wood, and other supplies. However, in 1875 part of it was converted into a two-room apartment for the assistant lighthouse keeper. Today this building serves as a museum.
While in operation the lighthouse had the highest elevation of any lighthouse in the United States. However, the location on top of a 400-foot cliff meant that fog and low clouds often obscured the light from the view of ships. On foggy nights the lighthouse keeper would sometimes discharge a shotgun to warn ships away.
On March 23, 1891, the flame was permanently extinguished and the light was replaced by the New Point Loma Lighthouse at a lower elevation.
In 1984, the light was re-lit  for the first time in 93 years, in celebration of the site's 130th birthday.
See the print here:
https://luminous-views.com/collections/fine-art-prints/products/point-loma-lighthouse