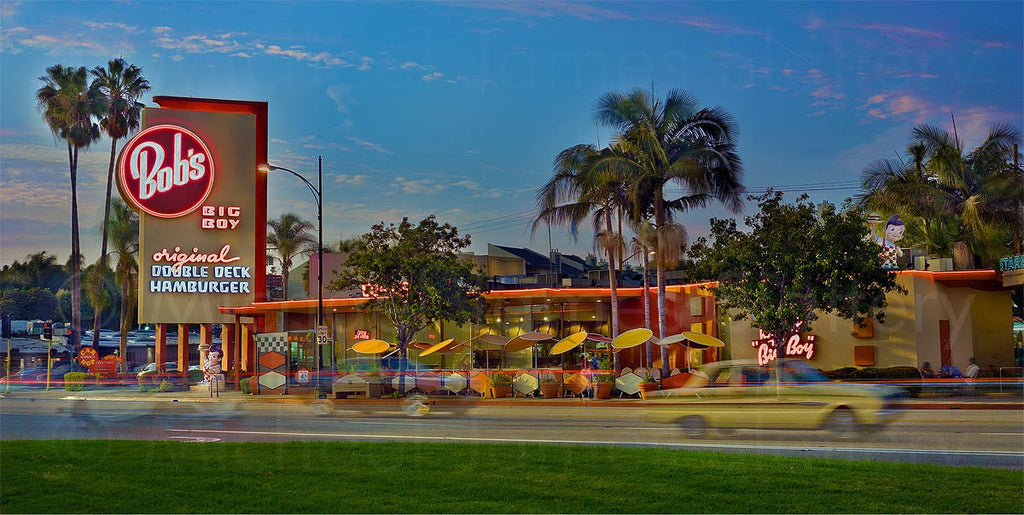 Click Here to Order a Ready to Frame Luster Print
Of all the places I got to go to that made me feel like things were good as a kid was when my Mom would take us to Bob's Big Boy. Either the one near the Sports Arena, that is now a storage building I believe, or the one that used to be in Encinitas. As well Pola's dad started a chain of these in Tijuana when she was young. I had a doctor, who while in school studied regularly at one of these restaurants, remove a cyst. We both LOVE their blue cheese dressing (as well as everyone in my family) no matter how expensive it is.

The choice in doing a shot for my Burbank show was a no brainer.

Bob's Big Boy, Burbank is a magnificent example of the emerging California coffee shop style that exploded in Los Angeles in the 1950's. Built in 1949, the structure is dramatically related to World Fair pavilions of the pre-war period by its long, low, horizontal roof line and wide canopies.

To get the full picture we need to go back to 1936. It was then Bob Wian sold his prized DeSoto Roadster to purchase a small hamburger stand in Glendale, California. He named it Bob's Pantry.

One night in 1937, a regular customer requested something different for a change. Bob went to work and the first double-decker hamburger was born.

Customers couldn't get enough of Bob's new creation. One fan in particular was a chubby six-year-old boy in droopy overalls.

He would often help Bob sweep up in exchange for a free burger. In honor of his young friend, Wian decided to name the better burger the Big Boy®. Another regular customer, a movie studio animator, sketched the now famous character on a napkin.

The rest is history.
TITLE
bob's big boy
PHOTOGRAPHIC EDITIONS
 

(over 10% sold)

 750 editions
CANVAS EDITIONS
(over 10% sold)
300 editions
CREATED
© November 2012