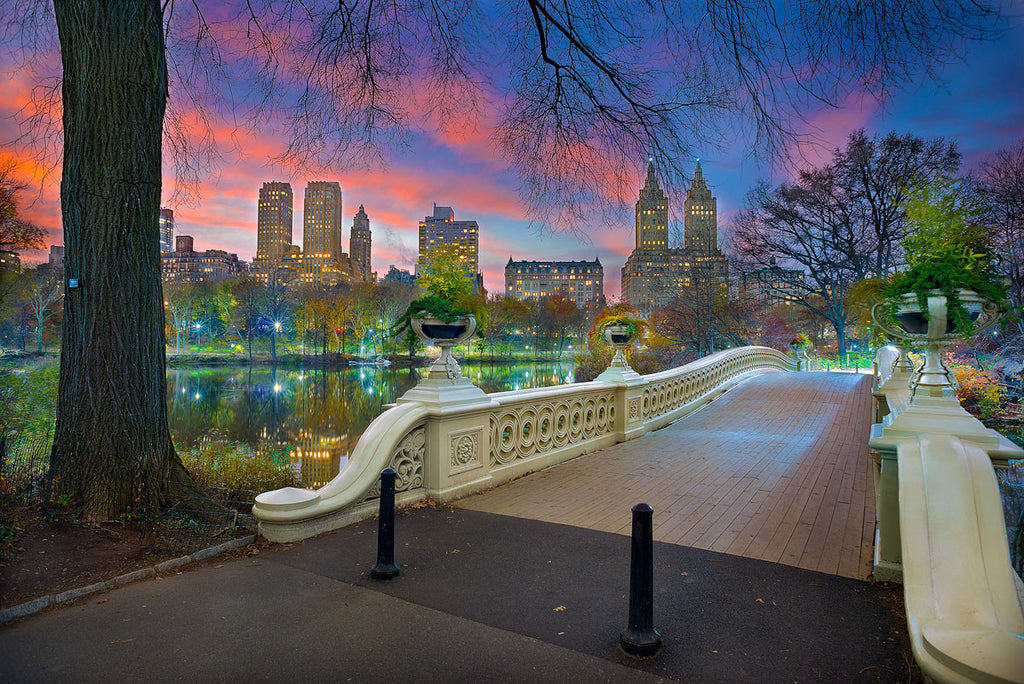 Click Here to Order a Ready to Frame Luster Print
In December of 2015 I took my box van across country. I always dreamed of shooting New York City and I actually failed in this attempted trip a few years earlier. So you can guess I was excited. Funny thing was after the trip I wished I stopped at places I would have never thought of.

This was going to be my last night in NYC. I figured Central Park would something I could not miss. After a few of hours walking around the park, a long way, I came upon Bow Bridge. One look from the bridge over the water to the historic skyline of the city everyone in the world knows of... Done.

Bow Bridge was the first cast-iron bridge in the Park (and the second oldest in America), the bridge was built between 1859 and 1862. Bow Bridge is named for its graceful shape, reminiscent of the bow of an archer or violinist. This handsomely designed bridge spans the Lake, linking Cherry Hill with the woodland of the Ramble. Today, Bow Bridge is one of New York's most romantic settings and a muse for photographers.

This was one of those where as the day light passed into night light and everything I saw got me more and more excited. By the same token there were obstacles in my view that seemed permanent and only eliminated through considerate accommodation. Patience provides a empowering rewards I could never express in words.
TITLE
bow bridge


PHOTOGRAPHIC EDITIONS
750 editions
CANVAS EDITIONS
300 editions
CREATED
© July 2017