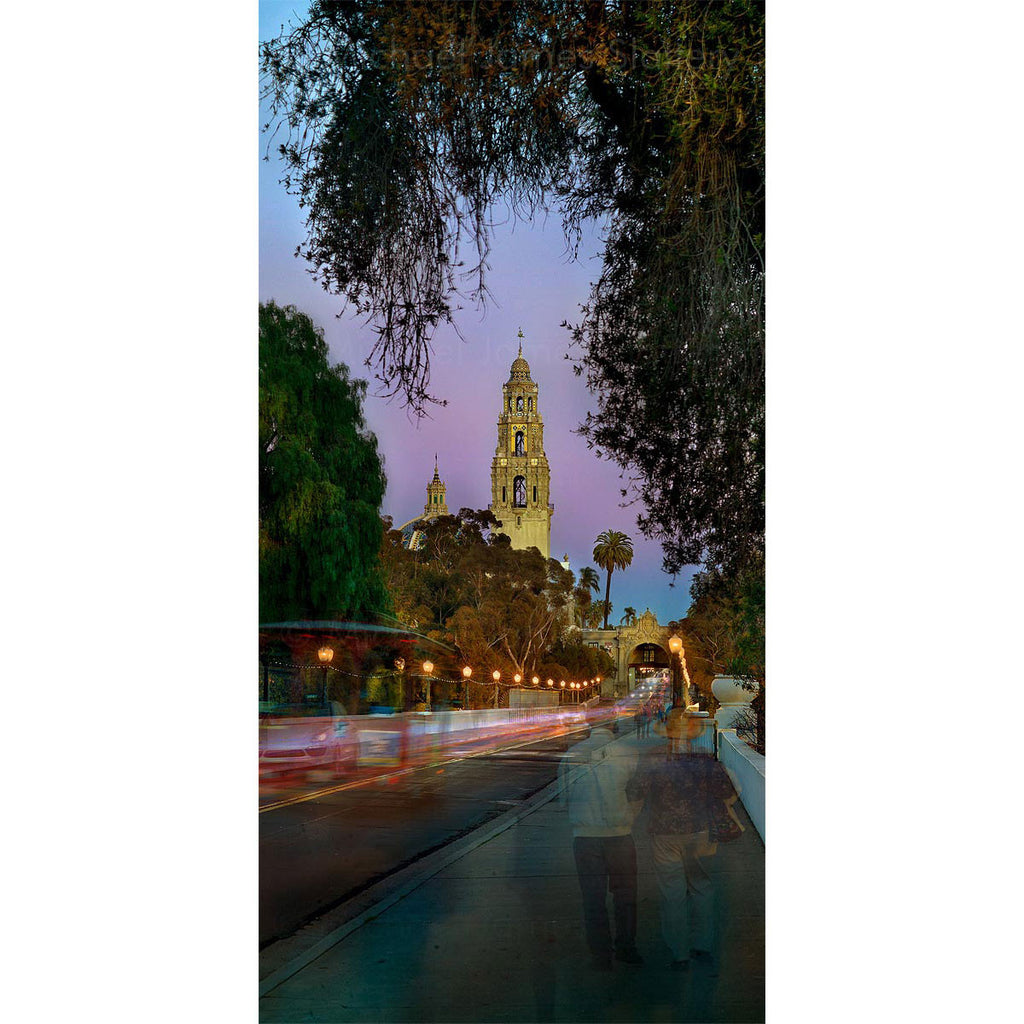 Click Here to Order a Ready to Frame Luster Print
The California Tower's design is Spanish while the details and color are Mexican in style. The tower is composed of three tiers that shift from a quadrangle, octagon, and then a circle. There is a Maas-Rowe carillon in the tower, first installed in 1946 and replaced in 1967. The carillon can be heard throughout the park. It plays "Westminster chimes" every quarter hour, and a resident carilloneur plays three songs at noon every day. The tower has been described as "San Diego's Icon," the most photographed and best-known landmark in San Diego.
The California Building with its ornate facade and blue-and-gold dome, together with the adjoining California Tower, are among the most recognizable landmarks in San Diego. It was designed by noted architect Bertram Goodhue as a design hybrid, blending Plateresque, Baroque, Churrigueresque, and Rococo details to present a unique Spanish-Colonial façade. Its design hints of Gothic influence with inspiration from Spanish churches in Mexico.
The building's facade features stone ornamentation as well as many historical figures and busts sculpted from modeling clay and plaster, depicting prominent people from California, England, Mexico, and Spain. These include Junípero Serra, Philip III of Spain, Sebastián Vizcaíno, George Vancouver, Luís Jayme, Carlos III of Spain, Juan Rodríguez Cabrillo, Gaspar de Portolà, and Antonio de la Ascención. The facade also features the shield of the United States and the coats of arms of California and Mexico.
The tower has been closed to the public for nearly 85 years, but with the City Council's approval, it could reopen in 2015.
TITLE
california tower

PHOTOGRAPHIC EDITIONS
(over 10% sold)

750 editions
CANVAS EDITIONS
(over 15% sold)
300 editions
CREATED
©February 2013