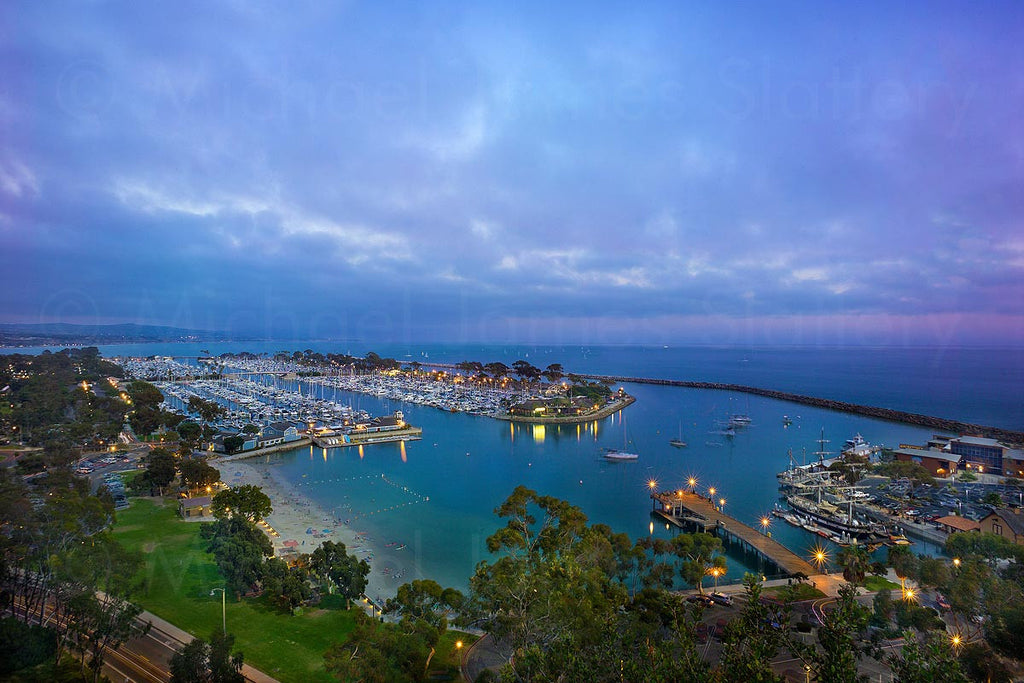 Click Here to Order a Ready to Frame Luster Print
Dana Point Harbor is located about halfway between Los Angeles and San Diego on the southern Orange County coast.
Dana Point was named for Richard Henry Dana, Jr., author of "Two Years Before The Mast". Dana's book was one of the few books in existence that described California in the 1830's.
The town of Dana Point is a Spanish-style town with wide streets named after "Lanterns" like Street of the Golden Lantern, Street of the Blue Lantern, and even a recent newcomer, Street of the Crystal Lantern. When the streets were originally laid out, there were actual lanterns for street lights, modeled from the old sailor's kerosene lanterns.
The construction of Dana Point Harbor started in the late 1960's with the building of the rock breakwater jetties. The water inside the jetties was then pumped out after all the shellfish and sea life had been transplanted. The marina was then built and the water was allowed to re-enter when the temporary jetty across the entrances to the East and West Basin was removed.
Dana Point Harbor was officially dedicated on July 31, 1971. While the harbor was very advanced in design and facilities, it has retained the secluded beauty and historic charm of its romantic past.
TITLE
dana point harbor
PHOTOGRAPHIC EDITIONS
750 editions
CANVAS EDITIONS
300 editions
CREATED
©August 2013