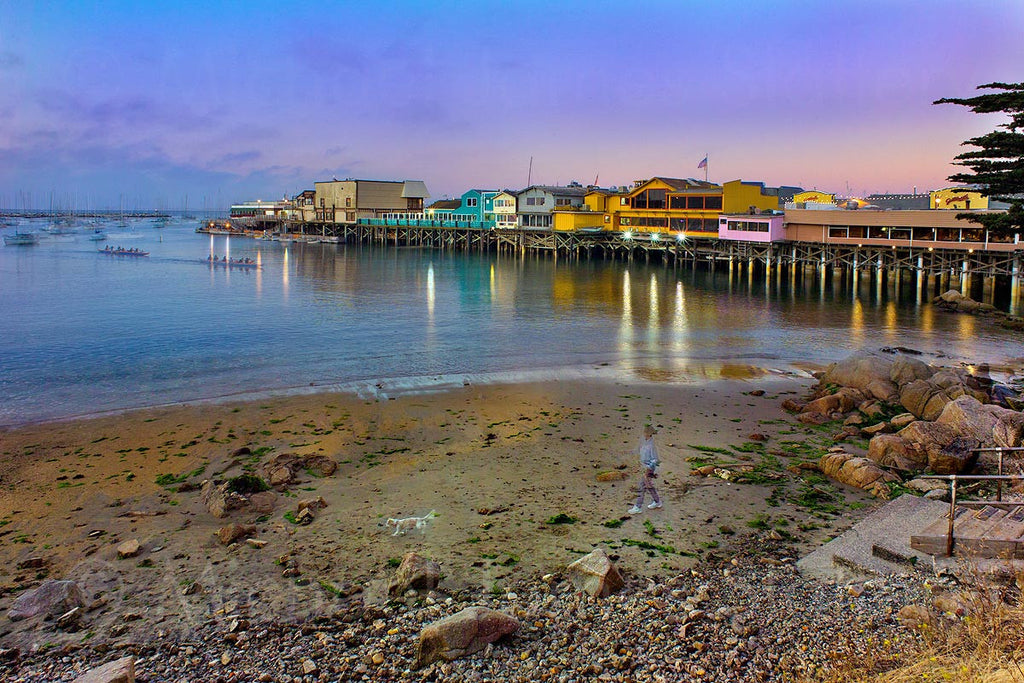 Click Here to Order a Ready to Frame Luster Print
In 1602 the Viceroy of New Spain, the Conde de Monterey, delegated Sebastian Viscaino, mariner and merchant, to explore the western shore of California. Viscaino landed in Monterey that year and named the harbor after the Count of Monterey. California remained under Spanish control with Monterey as its capital until 1822, when Mexico added California to its empire. After war broke out between the United States and Mexico in 1846, Commodore Sloat, on landing in Monterey, claimed California for the Union.

Thus, the Marina, Old Fisherman's Wharf and Municipal Wharf II lie in some of the most historic waters in California.

Growth of the sardine industry and the need to keep the Wharf in better repair prompted the City Council to assume ownership of the pier in 1913. (At some time during this period it became known as "Fisherman's Wharf").

On March 3, 1923, the largest load of sardines ever to be shipped from Monterey, 20,000 cases, was on Fisherman's Wharf ready to be loaded on the S.S. San Antonio. The weather was bad and the San Antonio leaned too heavily onto the Wharf timbers, causing 132 feet of the pier to collapse and spilling 10,000 cases of sardines into the harbor.

During World War II the character of the wharves changed only slightly. When sardines began to disappear after World War II, Fisherman's Wharf converted to a tourist-oriented operation.

Being that this area is so nice I could not imagine a better use.
TITLE
fisherman's wharf in monterey

PHOTOGRAPHIC EDITIONS
750 editions
CANVAS EDITIONS
300 editions
CREATED
© February 2012