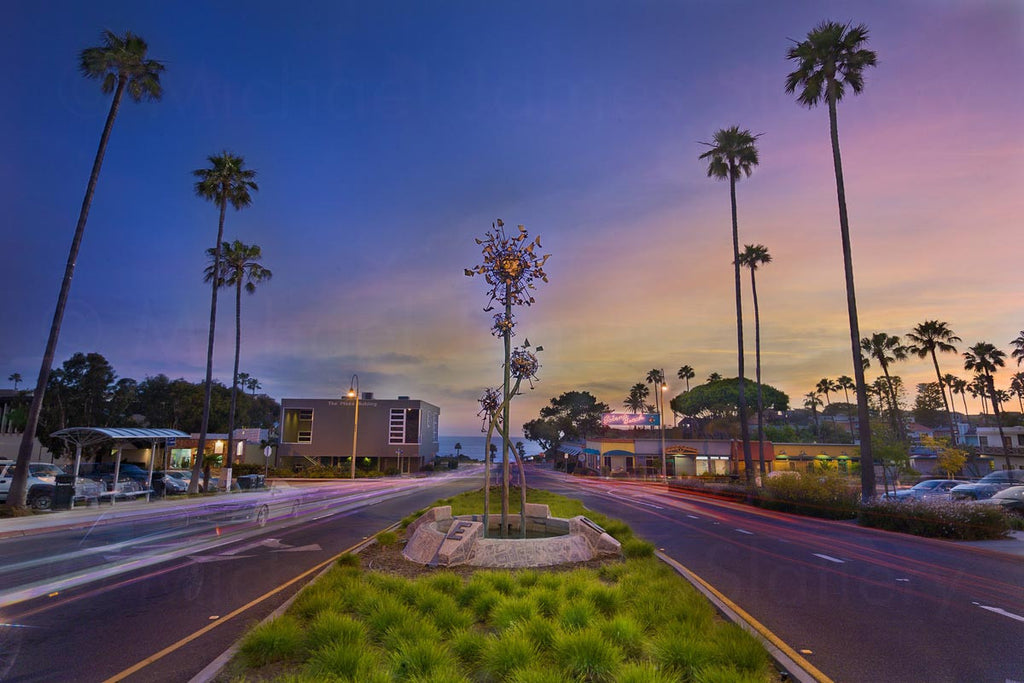 Click Here to Order a Ready to Frame Luster Print
Solana Beach was the town where I had my first haircuts done as a child and one of the only pizza places (of the dozen I worked at in my life) where I could drink beer while I worked.
Until 1923, the main area known as Solana Beach was originally called Lockwood Mesa. When Lake Hodges Dam was built in 1917-18, the area encompassing Solana Beach began to develop rapidly. The coastline from Solana Beach to Oceanside began to boom in the early 1920s.
In 1922 Colonel Ed Fletcher, an early community leader and developer, purchased 140 acres at $20 per acre from town founder and farmer George H. Jones to develop the town of Solana Beach, with the help of his brother-in-law Eugene Batchelder.
To provide access to the beach for the development, hydraulic water pressure was used to erode away tons of earth and create the Fletcher Cove entry and beach. This took one man three months with a fire hose, using water that was coming over the spillway at Lake Hodges Dam. The beach was opened with great fanfare including horse races on the beach on July 4, 1925.
This sculpture is called the Sunburst Fountain, designed by Wenetta Grybas Childs. It was put up in 1967 at the west end of Lomas Santa Fe Drive, near the entrance.
TITLE
fletcher cove
PHOTOGRAPHIC EDITIONS
750 editions
CANVAS EDITIONS
300 editions
CREATED
© July 2011