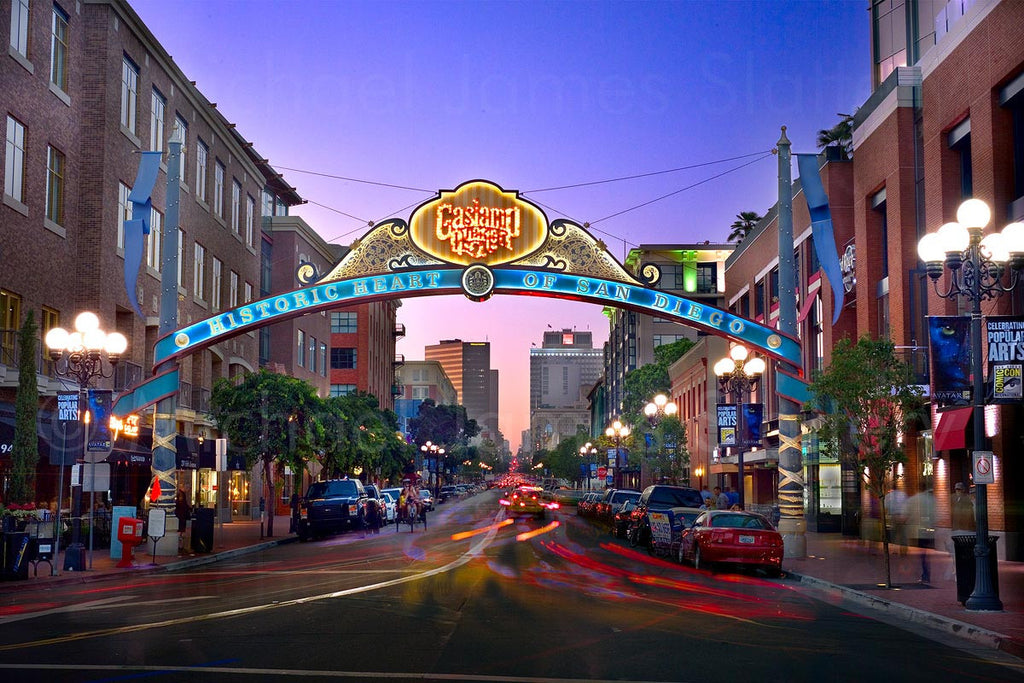 Click Here to Order a Ready to Frame Luster Print
The Gaslamp Quarter of San Diego has been known by many names. It has been called Rabbitville. Flea Town. New Town San Diego. Davis' Folly. Stingaree. Chinatown. S.O.B. (South of Broadway) And finally, The Gaslamp Quarter.
Originally intended to be the main business district, the area has suffered through decades of decay, punctuated by short bursts of success, but one thing has remained constant throughout its turbulent history - The district was built and has always been championed by forward thinking, talented, and dedicated people who believed in San Diego, and poured their hearts into making the district a thriving community.
In 1989 the Gaslamp Archway is officially completed and dedicated. The Archway was installed and funded by redevelopment funds overseen by Centre City Development Corporation. The arch was designed by Harman Nelson, architect, and built by Roy Flahive of Pacific Sign Construction Company.
The sign is significant in that it uses neon, incandescent and flourescent light fixtures to present a beautiful, vibrant display. The Gaslamp Archway was symbolic as a declaration that the City of San Diego was committed to continuing the redevelopment of Downtown. It serves as an icon for other cities to look to.
TITLE
gaslamp sign
PHOTOGRAPHIC EDITIONS
(over 15% sold)

750 editions
CANVAS EDITIONS
(over 10% sold) 
300 editions
CREATED
© September 2010