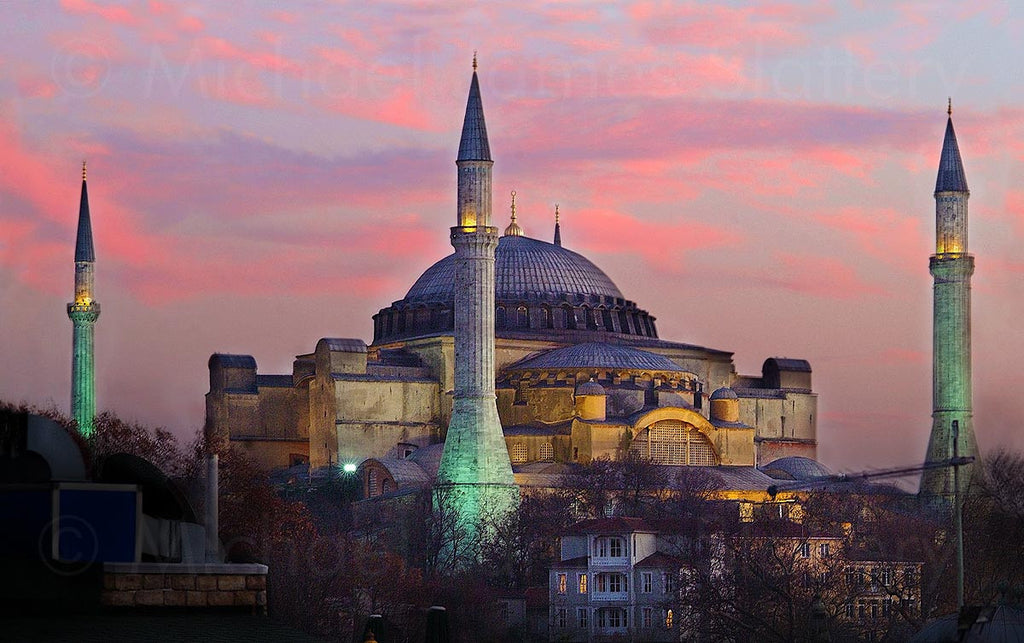 Click Here to Order a Ready to Frame Luster Print
I actually captured the original images for this work on December 3rd, 2005. I have been playing with it on and off since then and finally decided to publish it.
Hagia Sophia is a former Orthodox patriarchal basilica, was later a mosque, and now a museum in Istanbul, Turkey.
From the date of its dedication in 360 until 1453, it served as the Greek Patriarchal cathedral of Constantinople, except between 1204 and 1261, when it was converted to a Roman Catholic cathedral under the Latin Patriarch of Constantinople of the Western Crusader established Latin Empire. The church contained a large collection of holy relics and featured, among other things, a 49 foot (15 m) silver iconostasis. It was the seat of the Patriarch of Constantinople and the religious focal point of the Eastern Orthodox Church for nearly one thousand years.
In 1453, Constantinople was conquered by the Ottoman Turks under Sultan Mehmed II, who subsequently ordered the building converted into a mosque. The building was a mosque from May 29th, 1453 until 1931, when it was secularized. It was opened as a museum on February 1st, 1935.
History is fascinating and often gets me wondering what it must have been like during these changes.
TITLE
hagia sophia
PHOTOGRAPHIC EDITIONS
750 editions
CANVAS EDITIONS
300 editions
CREATED
© September 2011