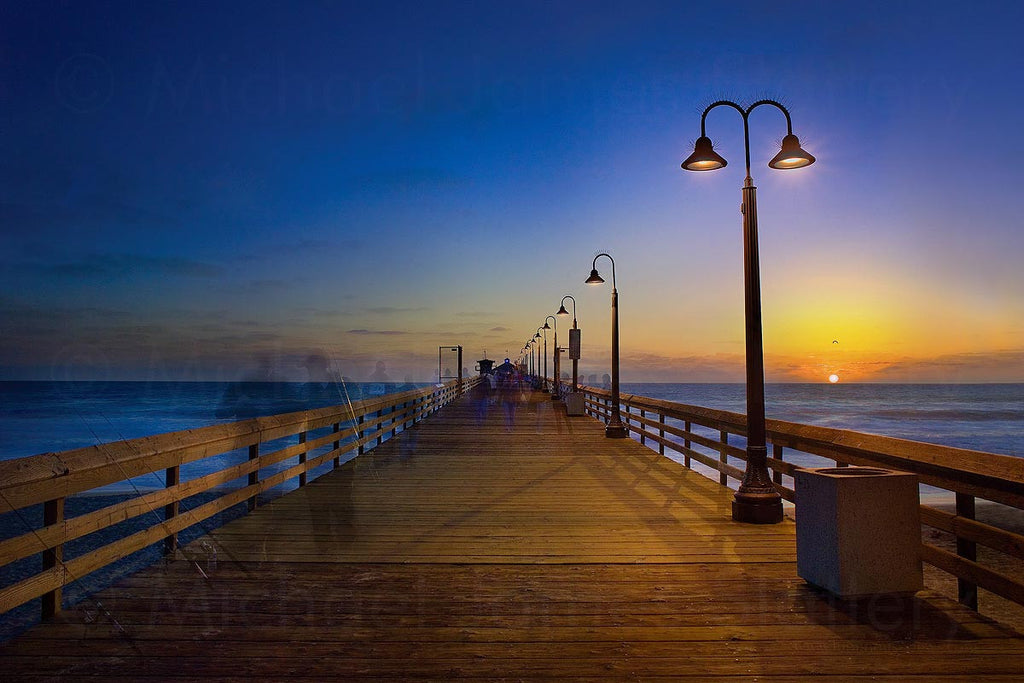 Click Here to Order a Ready to Frame Luster Print
My most favorite fact about Imperial Beach is that in the 1940's surfers from all over Southern California made the journey to surf the then-known biggest waves off the continental United States. Not many think of I.B. As a big surf spot.
The first I.B Pier was constructed about 1909. Its original purpose was to generate electricity for the town using wave action which activated massive machinery on the end of the pier. It worked inadequately for its intended purpose and the "Edwards Wave Motor," as it was named, was disassembled and removed. For many years the pier attracted large crowds as did the nearby boardwalk and bathhouse. Lasting over the next 40 years it came to its demise in a bad storm in
1948. It, literally, became adrift in the angry seas below.
Students of history should remember that Friday, November 22, 1963 was the day that John F. Kennedy was assassinated. At Imperial Beach, people's emotions were torn. Saturday was the official opening day for the new pier and festivities were planned - but it is hard to be festive when the nation is in mourning. The pier eventually became extremely popular for fishing.

Never the less, again, the pier was destroyed by storms in the early 80's, and was completely rebuilt by December 1988. It rises above 20-feet deep water and is 24-feet wide.
TITLE
i.b. pier
PHOTOGRAPHIC EDITIONS
(over 10% sold)

750 editions
CANVAS EDITIONS
(over 10% sold)
300 editions
CREATED
© May 2010