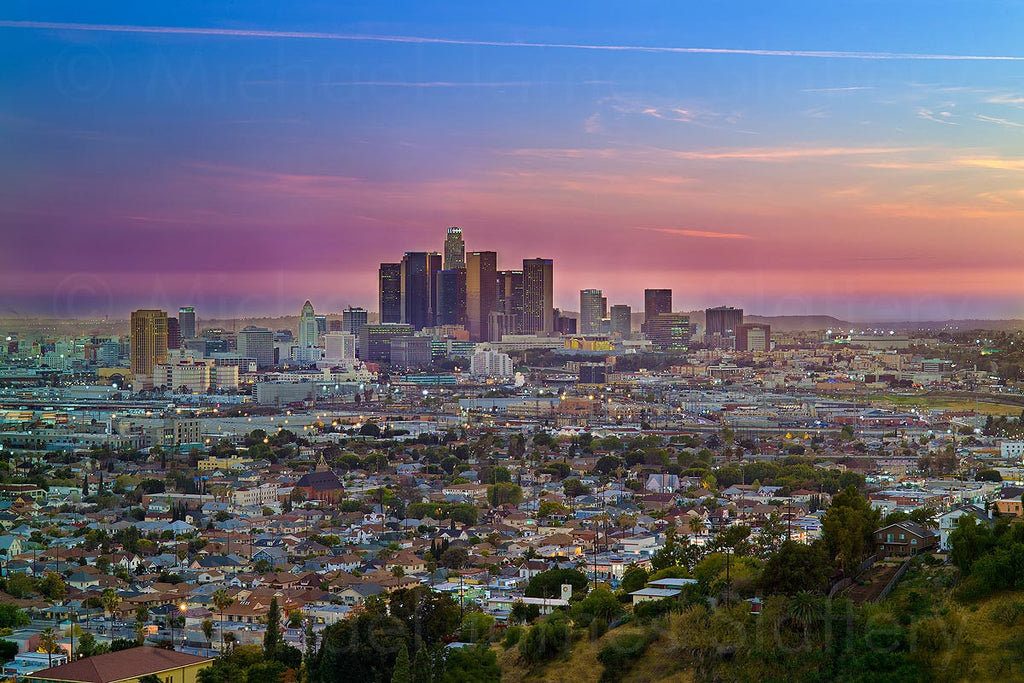 Click Here to Order a Ready to Frame Luster Print
I found this incredible view of L.A. with the magic of google maps 3-D plug in. I did notice it was a single lane dirt road and that I needed to be shooting right after a rain so getting there was going to be a task.

But the real tasks came after setting up. The first person that spoke English I met was carrying an aluminum baseball bat and walking a pit pull which had a head as big as a basketball. The funny thing is he was (initially) the most friendly person of the half dozen I met in those four hours. Another story for the shows...

Los Angeles was founded on September 4, 1781, by Spanish governor Felipe de Neve. It became a part of Mexico in 1821 following the Mexican War of Independence. In 1848, at the end of the Mexican–American War, Los Angeles and the rest of California were purchased as part of the Treaty of Guadalupe Hidalgo, thereby becoming part of the United States. Los Angeles was incorporated as a municipality on April 4, 1850, five months before California achieved statehood.

With a population at the 2010 United States Census of 3,792,621, is the most populous city in the state of California, and the second most populous in the United States, after New York City. Often known by its initials L.A., the city is the focal point of the larger Los Angeles-Long Beach-Santa Ana metropolitan statistical area and Greater Los Angeles Area region, which contain 12,828,837 and nearly 18 million people respectively as of 2010.

This is just the start of what is in this shot.
TITLE
the angels
PHOTOGRAPHIC EDITIONS
750 editions
CANVAS EDITIONS
300 editions
CREATED
© May 2012