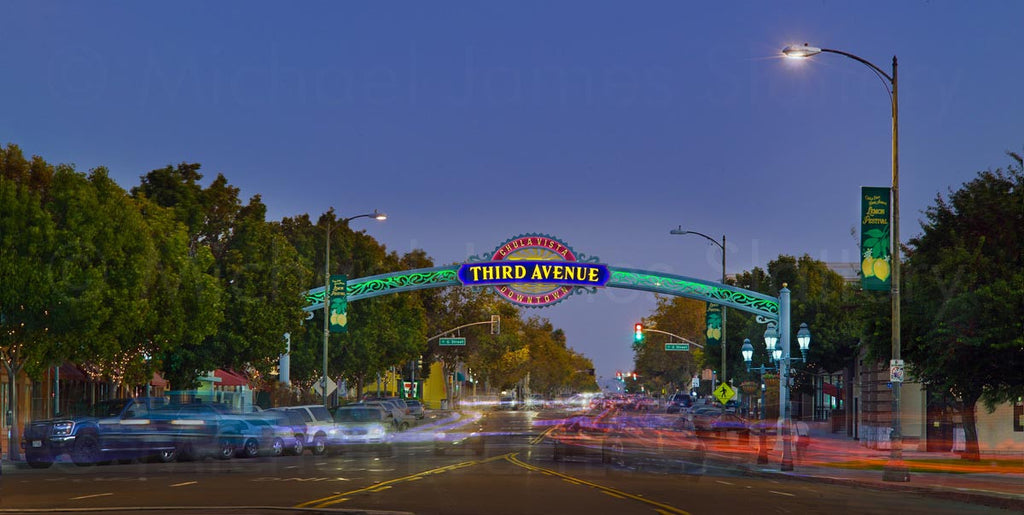 Click Here to Order a Ready to Frame Luster Print
For one of the most boring cities in America (according to Forbes Magazine 2009) Chula Vista is a rather interesting place if you ask me.
Prehistoric evidence, of both land and aquatic origin, date Chula Vista's history back to the year 3000 B.C. when people speaking the Yuman (Quechan) language began movement into the region from the Lower Colorado River Valley and southwestern Arizona portions of the Sonoran desert. Later the Kumeyaay tribe came to populate the land, on which the city sits today.
In the year 1542, a fleet of three Spanish Empire ships, commanded by Juan Rodríguez Cabrillo, sailed into San Diego Harbor. The historic land on which Chula Vista sits became part of the 1795 land grant known as Rancho del Rey or The King's Ranch. The land eventually was renamed Rancho del la Nacion.
The San Diego Land and Town Company developed lands of the Rancho de la Nación for new settlement. The town began as a five thousand acre development, with the first house being erected in 1887; by 1889, ten houses had been completed.
The 1888 completion of the Sweetwater Dam allowed for irrigation of Chula Vista farming lands. Chula Vista eventually became the largest lemon-growing center in the world for a period of time.
Although the Great Depression affected Chula Vista significantly, agriculture still provided considerable income for the residents. In 1931, the lemon orchards produced $1 million in revenue and the celery fields contributed $600,000.
The most interesting thing is I cannot find a thing out about this sign.
Chula Vista can be roughly translated from Spanish as "beautiful view."
TITLE
third avenue sign
PHOTOGRAPHIC EDITIONS
750 editions
CANVAS EDITIONS
300 editions
CREATED
© September 2011