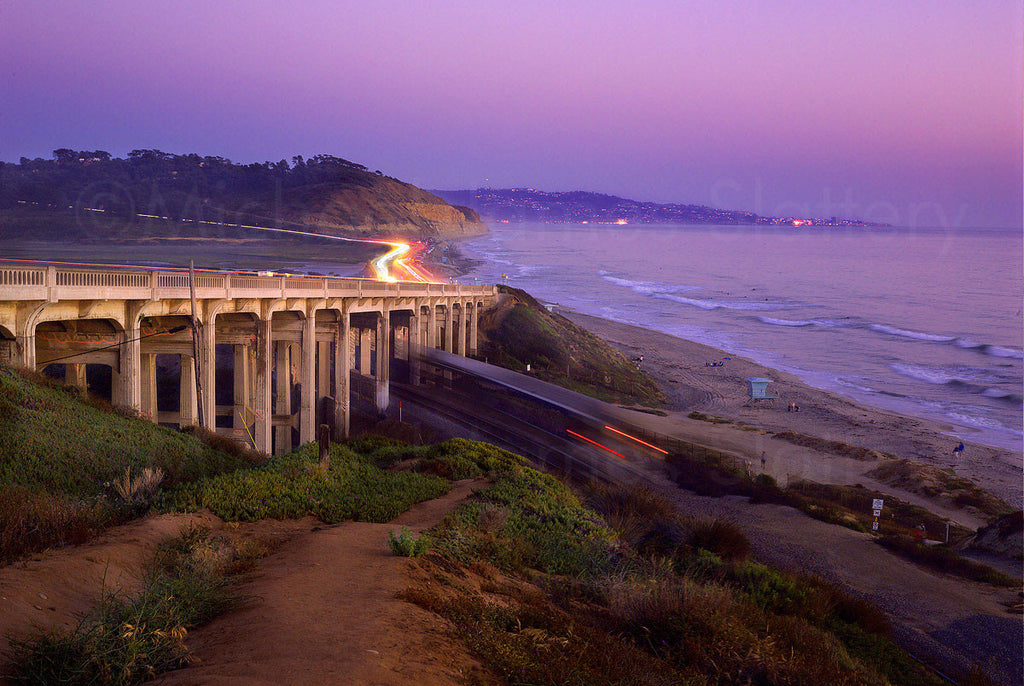 Click Here to Order a Ready to Frame Luster Print
Growing up this was the beach all the non-locals went to. Being that there were no cliffs, and the clean view from the 5 freeway, the access is obvious.
Talk about obvious, as you can see the Torrey Pines bridge is a gateway to Del Mar and is in dire need of repair. Hope the earthquakes here can wait till it is done.
How did this area get the name Torrey Pines? At the top of the hill in the distance are the Torrey Pines. It is the rarest pine in the United States. The wild population is restricted to about 7,000 trees growing along this narrow strip here in San Diego. Battered by coastal winds, the trees are often twisted into beautiful shapes resembling bonsai. The seeds were an important food for the Kumeyaay tribe of Native American people.
One of the things about this place is I have been here only a few times but each of them I will always remember.
TITLE
torrey pines
PHOTOGRAPHIC EDITIONS
 (over 30% sold)

 75
0 editions
CANVAS EDITIONS
 (over 30% sold)
300 editions
CREATED
© June 2008