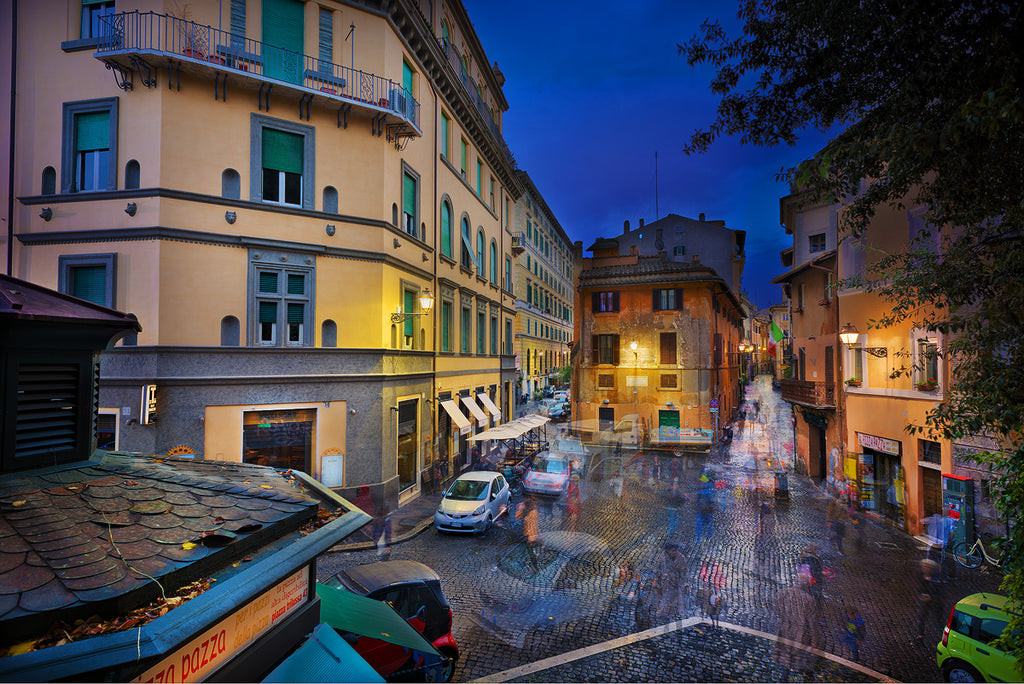 Click Here to Order a Ready to Frame Luster Print
Late October 2016. Time to reap what we sow. It had been near a decade since I sold my first Luminous View. Not quite in the category where folks could call themselves well off but never the less in a position of some freedom. And what do we folks do then? Travel to far away places. So that is what the best girl ever and I did. We went to Europe. It was one incredible time.
This is the first place we stayed in Rome. Piazza Trilussa in Trastevere is the tragically hip location in Rome home to several foreign academic institutions including The American University of Rome, the John Cabot University, the American Academy in Rome, the Rome campus of the Thomas More College of Liberal Arts, the Canadian University of Waterloo School of Architecture and the American Pratt Institute School of Architecture therefore serving as home to an international student body.
Civilization in Trastevere dates back as far as 750 B.C. The streets and alleys were not paved until the 15th century yet are still often so narrow only scooters and pedestrians can pass. By the time of the Republic c. 509 BC, the number of sailors and fishermen making a living from the river had increased, and many had taken up residence in Trastevere. Immigrants from the East also settled there, mainly Jews and Syrians.
With the wealth of the Imperial Age, several important figures decided to build their villae in Trastevere, including Clodia, (Catullus' "friend") and Julius Caesar (his garden villa, the Horti Caesaris).
Rich may not be how this place looks but it is certainly how it feels.

TITLE
trastevere


PHOTOGRAPHIC EDITIONS
750 editions
CANVAS EDITIONS
300 editions
CREATED
© October 2017