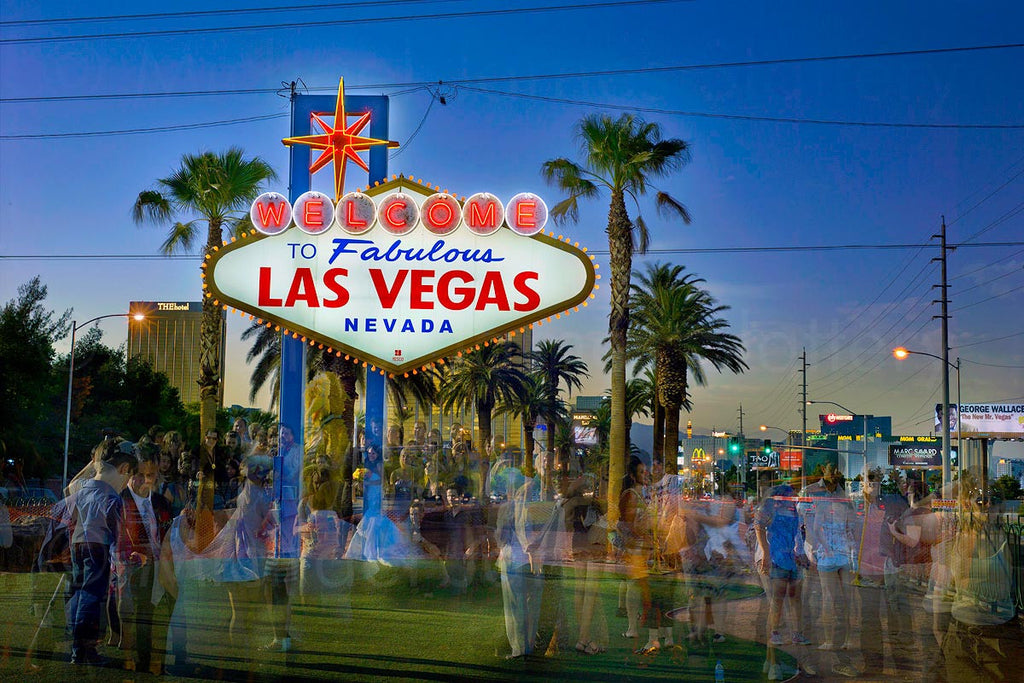 Click Here to Order a Ready to Frame Luster Print
For a two week period, in the middle of the month of July 2011, I took a journey. That started with a view of Vegas and ended with a trip down the California coast.
The Welcome to Fabulous Las Vegas sign is a Las Vegas Strip landmark erected in 1959 by Western Neon. The sign was designed by Betty Willis (in characteristic Googie architecture) at the request of Ted Rogich, a local salesman, who sold it to Clark County, Nevada.
In a nod to Nevada's nickname as "the Silver State," across the top of the sign are white neon circles, designed to represent silver dollars. The circles each contain a red painted letter, outlined in neon, which together form the word "Welcome".
In 2005, the image of the sign was featured on the Nevada license plate that was issued to commemorate the 100th anniversary of the City of Las Vegas and on March 13, 2009 Clark County nominated the sign for listing on the National Register of Historic Places with the listing receiving approval on May 1, 2009.
Last year I published my boardwalk to crystal pier image. It has been one of my most popular works recently due to the 'ghosts' of people that I incorporate. So in consideration of how I was in no way gonna get people to stand away from this landmark I have taken my 'ghosts' to the next level of story telling.
This capture happened my first day and it was by far the hottest. It was a cool 92 degrees that evening where I slept.
Of course this one feels like it took extra time and effort to create. All the more reason I look forward to peoples reaction.
TITLE
vegas sign
PHOTOGRAPHIC EDITIONS
750 editions
CANVAS EDITIONS
300 editions
CREATED
© January 2012