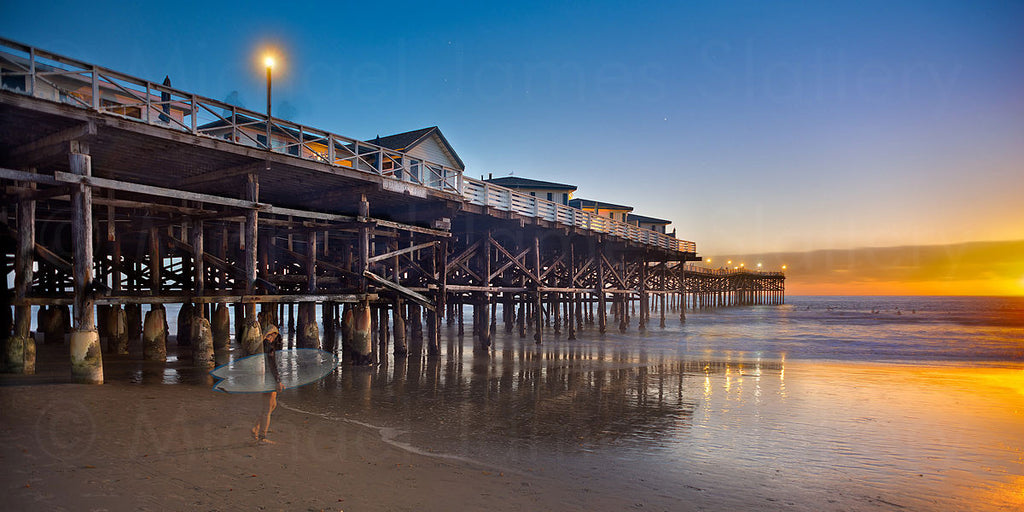 Click Here to Order a Ready to Frame Luster Print
The idea for a pier in Pacific Beach originated with Earl Taylor, a local realtor of the mid-1920s who was trying to sell property in the then sparsely populated (700 resident) area. Taylor felt he needed a gimmick, something to attract land buyers and more people to the area. He approached Earnest Pickering, owner of the Pickering Pier in Ocean Park, and soon had a partner, both financially and with insights regarding a pier.

Although dedicated on April 18, 1926, the pier and its amusements would not be finished until the following summer (amid fierce competition between the Crystal Pier and the amusement park at Mission Beach). On the July 4 weekend of 1927, the 950-foot-long pier opened as the "Crystal Pleasure Pier Ballroom and Joy Zone," an opening heralded in both the San Diego and Los Angeles areas. The main attraction was the towered ballroom that sat out at the end of the pier and featured a cork-cushioned dance floor and a crystal ball, high up above the dance floor, which gave the pier its name.

The attractions were short lived. From day one the pier had rocked in an unsettling manner. Visitors to the ballroom complained of queasiness and it only took three months till it was closed and soon after condemned.

On April 19, 1936, almost exactly ten years after the initial dedication, a new and remodeled pier, complete with ten motel cottages and a soda fountain, opened for vacationers. Souvenir postcards from the day mentioned free pier fishing and tackle for rent —for the princely sum of 25 cents. The new pier and motel quickly became a favorite for those coming to the beach to escape the heat of the inland areas.

The only changes since have been minor and were done due to the 1983 storm. To this day there is even a pier bait shop - ask for James if you stop by.
TITLE
crystal pier
PHOTOGRAPHIC EDITIONS
(over 10% sold)

750 editions
CANVAS EDITIONS
(over 15% sold) 
300 editions
CREATED
© October 2014