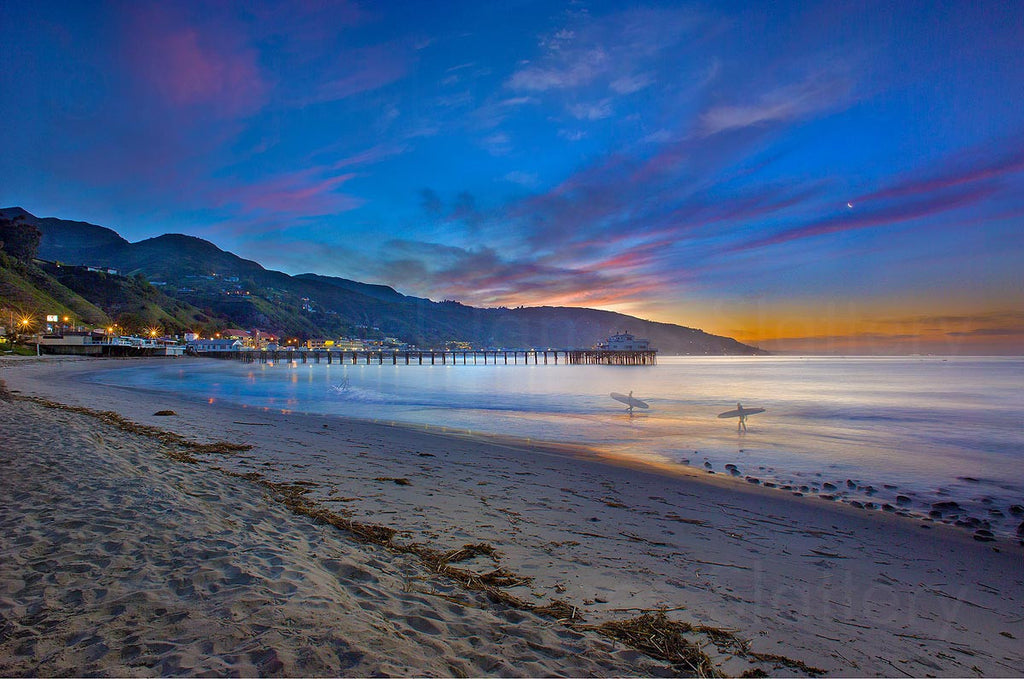 Click Here to Order a Ready to Frame Luster Print
So I was up really early to get this shot as the camera is facing a sunrise. One of my few sunrises. Should it be any surprise I had a run in with a large man with a flash light who thought I was his father. It's a story worth listening to if you have the time at a show.
The Malibu Pier was originally built in 1905 to support the operations of Malibu Rancho. Cow hides and other agricultural products were shipped from the pier directly and by transfer to vessels.
In 1934, the pier was opened to the public for pier and charter fishing. After the bankruptcy of Marblehead Land Co. in 1936, the Malibu Pier was taken over by bondholders who had helped finance Malibu development. The pier was extended to its current 780-foot length.
During World War II, the end of the pier served as a U.S. Coast Guard daylight lookout station. After the end of the war, the pier was expanded and they built the familiar twin buildings at the end for a bait and tackle shop plus a restaurant. The building near the land end of the pier (intended for the Coast Guard) became the Malibu Sports Club Restaurant in 1966, then the Malibu Pier Club after a change of owners, and then Alice's Restaurant (yes, named for the song) from 1972 to the closure of the pier in the 1990s.
In late June 2008, the Malibu Pier reopened after $10 million in renovations.
No matter what happens folks will always want to be near the water.
TITLE
malibu pier
PHOTOGRAPHIC EDITIONS
(over 15% sold)

75
0 editions
CANVAS EDITIONS 
(over 10% sold)
300 editions

CREATED
© May 2012