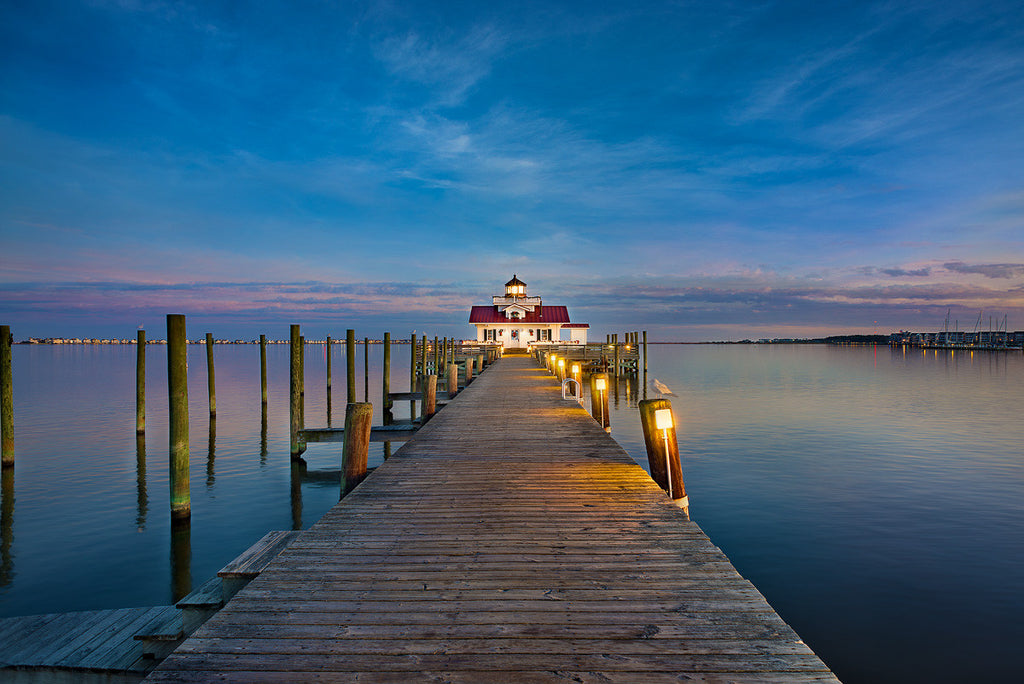 Click Here to Order a Ready to Frame Luster Print
In December of 2015 I took my box van across country. I always dreamed of shooting New York City and I actually failed in this attempted trip a few years earlier. So you can guess I was excited. Funny thing was after the trip I wished I stopped at places I would have never thought of.

So being that this stop was on the Outter Banks of North Carolina I figured lighthouses would be good to focus on. After all OBX is where the Atlantic's great graveyard of ships is. So of course I picked one of the least significant lighthouses.

The Roanoke Marshes lighthouse is often one of the most overlooked of the Outer Banks lighthouses, simply because of its small stature, limited visibility and remote location tucked away at the quiet east end of the Manteo waterfront.

The first Roanoke Marshes Lighthouse went into service in 1831 but was abandoned by its light keeper after just 8 years because of extensive and neglected repairs. A second as built in 1858. A third one 1877 and it was this third one that lasted 60 years but required 80 additional piles over the years. That one was decommissioned in 1955, sold to a private owner and eventually lost in the sound in an attempt to move it inland.

This is a replica.

All in all it really is wonderful how loyal communities be can in regards to stuff that made their community possible. This place is really nice.


TITLE
roanoke lighthouse


PHOTOGRAPHIC EDITIONS
750 editions
CANVAS EDITIONS
300 editions
CREATED
© July 2017