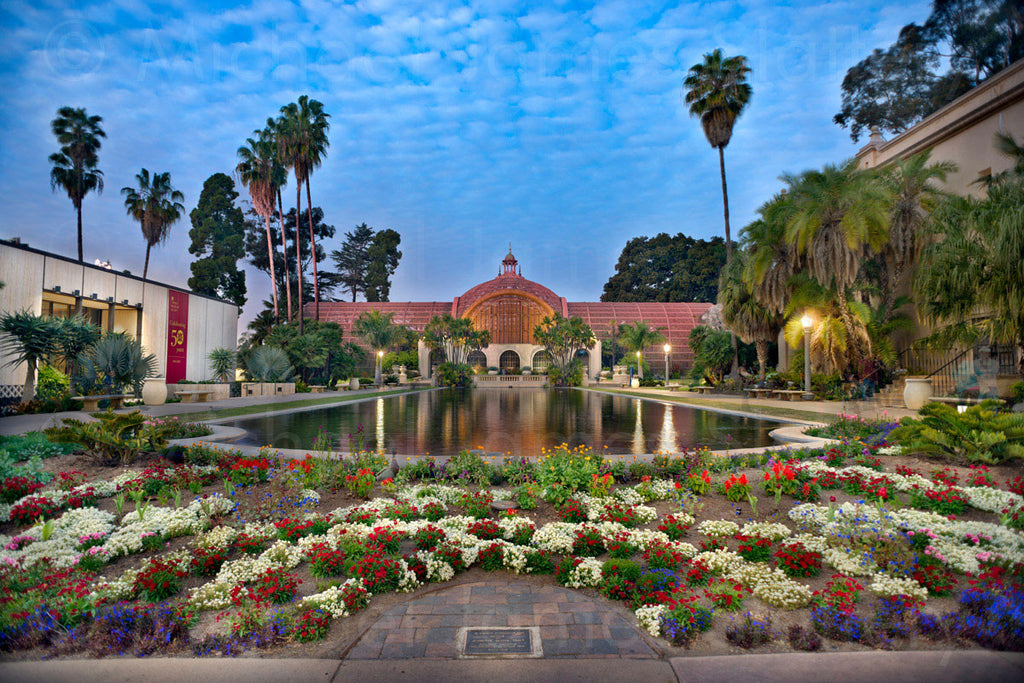 Click Here to Order a Ready to Frame Luster Print
This view of the Botanical Building with the Lily Pond and Lagoon in the foreground is one of the most photographed scenes in Balboa Park and a "must-see" destination in San Diego. Built for the 1915-16 Exposition, along with the adjacent Lily Pond and Lagoon, the historic building is one of the largest lath structures in the world. The Botanical Building plantings include more than 2,100 permanent plants, featuring fascinating collections of cycads, ferns, orchids, other tropical plants and palms. The Botanical Building also presents some of the Park's vibrant seasonal flower displays.
Balboa Park itself contains 350 species of plants on 1,200 acres (490 ha) of rolling hills and canyons, with approximately 1,500 trees. Many of the trees were selected and planted by horticulturalist Kate Sessions, often referred to as "the Mother of Balboa Park".
The history of botanical gardens is closely linked to the history of botany itself. Botanical gardens of the 16th and 17th centuries were medicinal gardens. The idea of a botanical garden changed to encompass displays of the beautiful, strange, new and sometimes economically important plant trophies being returned from the European colonies and other distant lands. Then, in the 19th and 20th centuries, the trend was towards a combination of specialist and eclectic collections demonstrating many aspects of both horticulture and botany.
Plants and life as we know have a much more interesting relationship. More interesting than any of us I believe will ever know.
TITLE
botanical garden building
PHOTOGRAPHIC EDITIONS
(over 10% sold)

 750 editions
CANVAS EDITIONS
300 editions
CREATED
©April 2015