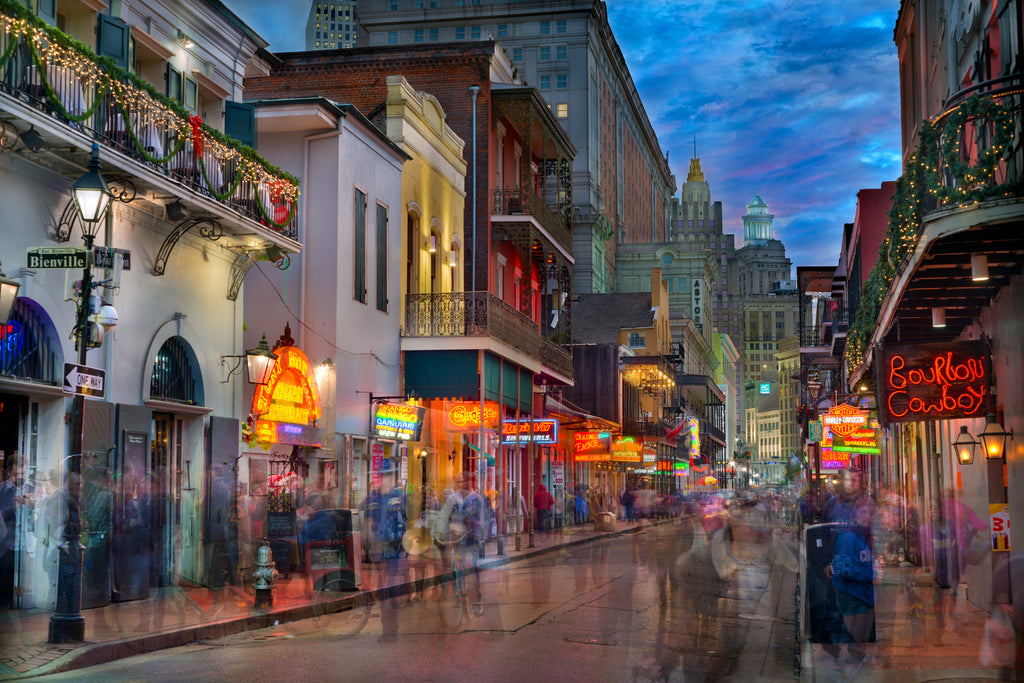 Click Here to Order a Ready to Frame Luster Print
In December of 2015 I took my box van across country. I always dreamed of shooting New York City and I actually failed in this attempted trip a few years earlier. So you can guess I was excited. Funny thing was after the trip I wished I stopped at places I would have never thought of.
The French claimed Louisiana as a colony in the 1690s and founded New Orleans in 1718. In 1721, the royal engineer, Adrien de Pauger, designed the city's street layout. He named the streets after French royal houses and Catholic saints. Bourbon Street paid homage to France's ruling family, the House of Bourbon.
New Orleans was given to the Spanish in 1763 following the Seven Years' War. The Great New Orleans Fire of 1788 destroyed 80% of the city's building. The Spanish rebuilt many of the damaged structures, which are still standing today. For this reason, Bourbon Street and the French Quarter display more Spanish than French influence.
The Americans gained control of the colony following the 1803 Louisiana Purchase. By 1840 the city's port was the second-largest after New York City.
Bourbon Street was a premier residential area prior to 1900. This changed in the late 1800s and early 1900s, when the Storyville red-light district was constructed on Basin Street near the French Quarter. The area became known for prostitution, gambling and vaudeville acts. Jazz is said to have developed here... this place has many, many stories.

TITLE
bourbon street


PHOTOGRAPHIC EDITIONS
(over 10% sold)

 750 editions
CANVAS EDITIONS
(over 15% sold)
300 editions
CREATED
© August 2017