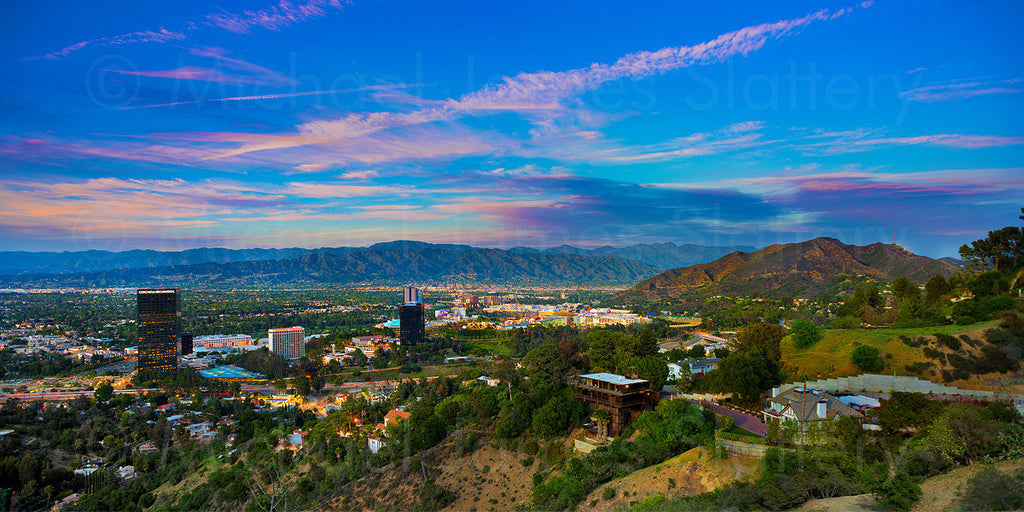 Click Here to Order a Ready to Frame Luster Print
Billed as the "Media Capital of the World" and located only a few miles northeast of Hollywood (the mountain with the sign is in the right side of the image) many media and entertainment companies are headquartered or have significant production facilities in Burbank. Some include The Walt Disney Company, Warner Bros. Entertainment, Warner Music Group, Nickelodeon and Insomniac Games. The city is also home to the Bob Hope Airport (which is in the far left of the image).
As I expand my horizons I seek to capture locations in markets that are accessible to the circuits of art/festival venues I participate in. My girl Pola joined me in the drive north and sitting at the Mulholland Dr. overlook for over 12 hours that day. It was a pleasure to eat a pizza, stare over the media capital of the world and talk about tomorrow and the stories we want to tell then. Pola also spent the whole weekend with me showing off this print to it's community at the Burbank Arts Festival. She was the best part of this story as being alone in a place like Burbank is a really lonely feeling.
Entertainment has generally replaced the defense industry as the primary employer in Burbank over the half dozen decades. Locals are attracted by the relative safety and security offered by its own police and fire departments, highly rated schools and hospital. Other reasons cited are its small-town feel while located only 10 minutes away by car to the hip clubs and restaurants of Hollywood. And, as Pola and I found out leaving here with over 5ive accidents in 5ive miles on the 5 south there is always a back street that can get you where you want, including home, faster.
TITLE
burbank
PHOTOGRAPHIC EDITIONS
750 editions
CANVAS EDITIONS
300 editions
CREATED
© April 2014