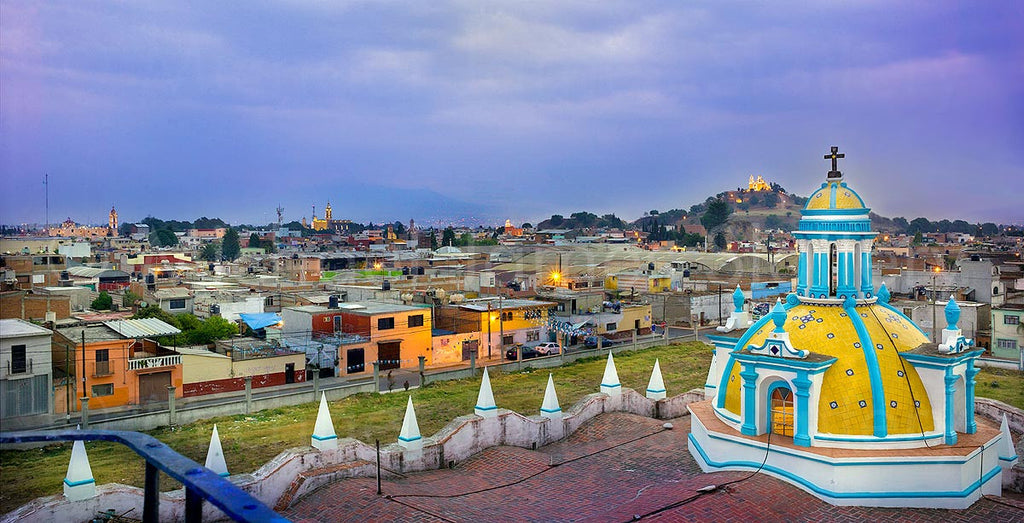 Click Here to Order a Ready to Frame Luster Print
In order to celebrate another milestone somewhere in my mid 40's the best girl in the world, POLA, took me to one of the most incredible places on earth. We ended up in places like the in a bell tower on a church, the top of a skyscraper in the middle of Mexico City DF and looking up at a church built on top of the worlds largest base of a pyramid.
So I am at the Church of Santa Maria Xixitla underneath a bell as big as four refrigerators with my tripod barely holding the camera above the railing (left side of frame).
In the distance you can see a few of the local churches lit up. These are but a handful of the hundreds of churches that Cholula claims to have in such a small city. Some say officially there are only 37 churches here.
We had some of the most delicious interesting food in these regions of Mexico. Not only did I have a moldy corn quesadilla we got fresh squeezed veggie/fruit juice here for like $1.50 for a quart. It would cost me over $6 just for the raw food to make this at home...
Another funny thing I want to share was that right behind me was the Mt. Popocatepetl volcano exploding ashes everywhere, yea the fog in the sky is part ash. Which is why there is not a shot with the volcano in the background.
Finally while spending three plus hours on a bell tower the folks who run the church needed to do their work too. Part of that consisted of four men ringing the huge bell above my head for over an hour. POLA has video and photos that if you look I am sure you will find.
Yes this and much more happened in what was the blink of an eye. It sure is pretty awesome to share it with someone so awesome.
TITLE
cholula church bell tower
PHOTOGRAPHIC EDITIONS
750 editions
CANVAS EDITIONS
300 editions
CREATED
© September 2012