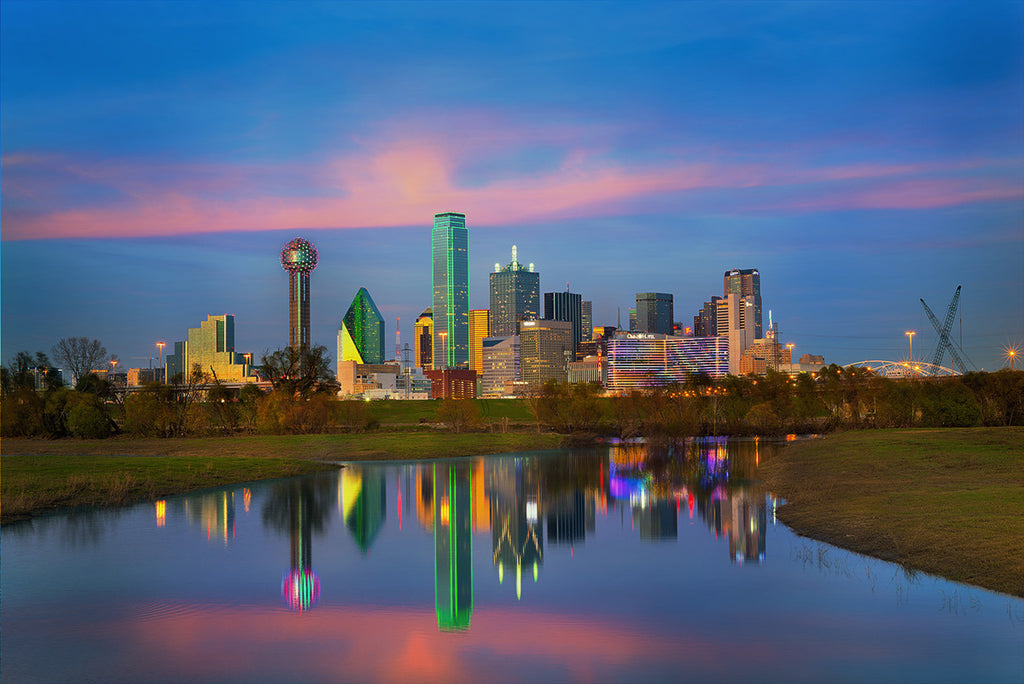 Click Here to Order a Ready to Frame Luster Print
In December of 2015 I took my box van across country. I always dreamed of shooting New York City and I actually failed in this attempted trip a few years earlier. So you can guess I was excited. Funny thing was after the trip I wished I stopped at places I would have never thought of.
In 1908, the Trinity River flooded, reaching a depth of 52.6 feet (16.03 m) and a width of 1.5 miles (2.4 km). Five people died, 4,000 were left homeless, and property damages were estimated at US$2.5 million. After the flood, the city wanted to take action to control the Trinity and to build a bridge linking Oak Cliff and Dallas. In 1911, George Kessler, a city planner, created a plan for both the Trinity and the city. His plans were initially ignored but ultimately brought back, updated, in the 1920s. By the 1930s, many of his plans had been realized.
In 1958 a version of the integrated circuit was invented in Dallas by Jack Kilby of Texas Instruments; this event punctuated the Dallas area's development as a center for high-technology manufacturing (though the technology Mr. Kilby developed was soon usurped by a competing technology simultaneously developed in the "Silicon Valley" in California by engineers who would go on to form Intel Corporation). During the 1950s and 1960s, Dallas became the nation's third-largest technology center, with the growth of such companies as Ling-Temco-Vought (LTV Corporation) and Texas Instruments. In 1957, developers Trammell Crow and John M. Stemmons opened a Home Furnishings Mart, designed by Donald H. Speck, that grew into the Dallas Market Center, the largest wholesale trade complex in the world
Today's Dallas is a perfect reflection of it's past. Growing.

TITLE
dallas


PHOTOGRAPHIC EDITIONS
750 editions
CANVAS EDITIONS
300 editions
CREATED
© September 2017