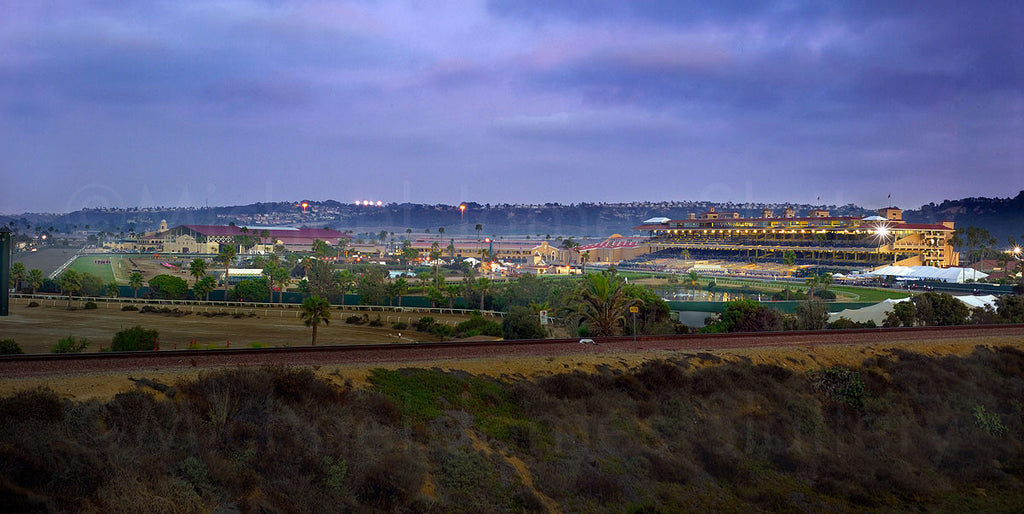 Click Here to Order a Ready to Frame Luster Print
In 1937 Bing Crosby, Pat O'Brien, Oliver Hardy and Gary Cooper are at the track to greet the first fans through the gate as Del Mar opens. That very next year the famous Seabiscuit-Ligaroti match race is held on August 12 and it draws 20,000 to the track and a nationwide radio audience. After a furious duel, Seabiscuit under George (The Iceman) Woolf and 130 pounds beats Ligaroti and Noel (Spec) Richardson at 115 by a nose.
Drawing on its Hollywood contacts, the plant was the first to make use of the photo-finish camera at its inaugural meet in 1937. The camera, an invention of Lorenzo del Riccio, an optical engineer who headed Paramount Pictures' technical research laboratories, was designed to produce a strip photograph of the passage of time at a fixed point – in this case the finish line. Today, just about every racetrack in the world uses the technology.
It seems like everything and everybody needs an overhaul over time and in 1993 the track opened with a fully refurbished grandstand, an $80-million project that took two years to complete while racing continued. The "new" Del Mar retained the look and many of the touches of the old facility, but with more space, 550,000 square feet to be exact, and more amenities. There are 4,700 more seats for a grand total of 14,300; 25 more bars for a grand total of 41; 20 more concession stands now totaling 36 and 750 pari-mutuel windows, up from 442. Del Mar is considered one of the jewels of the American racing scene. For the 2007 season, the track introduced Polytrack – an engineered racing surface that replaced its previous dirt main track. The new, $9-million racetrack is kinder and more consistent and therefore much safer for horse and rider.
Today, the track holds its annual One & Only Truly Fabulous Hat Contest. Even if they don't participate in the contest, a majority of the crowd wears a hat on Opening Day. It's just tradition. What's remained constant since 1937 is the feeling that no matter who you are, one of the best places you can be a on a sunny summer afternoon is at the Del Mar Racetrack.
TITLE
del mar horse track
PHOTOGRAPHIC EDITIONS
 

(over 10% sold)

75
0 editions
CANVAS EDITIONS
(over 15% sold)
300 editions
CREATED
© September 2009