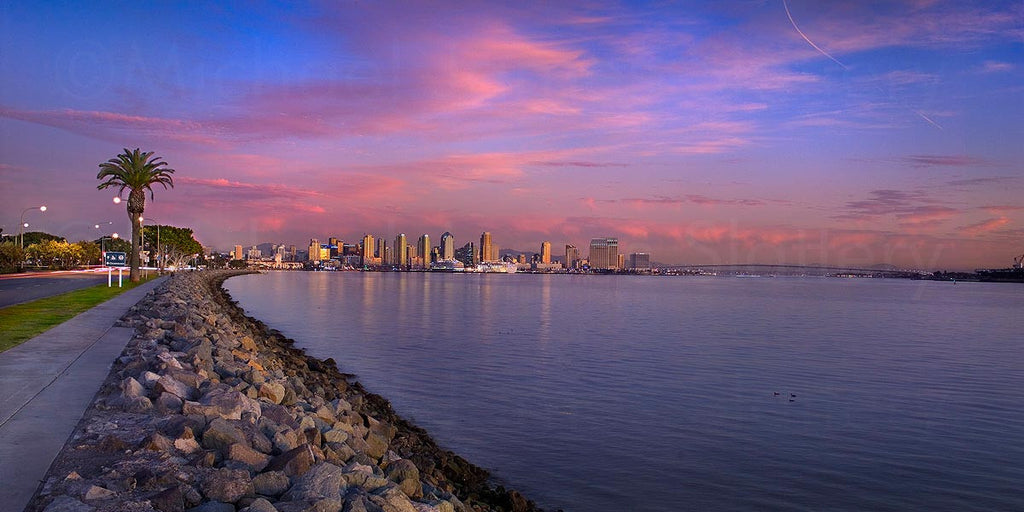 Click Here to Order a Ready to Frame Luster Print
I captured this the first day of the year in 2010. It has been five years since I did my first light painted landscape of this scene. Many new residence of the city have requested this update and I look forward to the responses.

How did this view turn out like this? Well the city of San Diego was originally focused in Old Town near the Presidio. In 1850 William Heath Davis and four partners purchased 160 acres of land in what is now Downtown San Diego, believing that a town closer to the waterfront would attract more trade. They laid out a street plan and built a wharf and warehouse, but nothing much came of their planned development.

In 1867 Alonzo Horton purchased 800 acres of pueblo lands in the current Downtown area, and in 1869 he added Davis's 160 acres to his holdings. Horton built a new wharf at the end of Fifth Avenue in 1869. He vigorously sold property and gave away land to promote development of the area, fueling the first of San Diego's many real estate speculation booms. People flocked to the area, which became known as New Town, because of its better access to shipping.

In 1885 the transcontinental railroad reached San Diego. In 1915 the Downtown landmark Union Station was built. A new commercial pier, the Broadway Pier, was built by the city in 1913.

By the late 60's major businesses and stores moved from downtown to suburban shopping malls. Downtown became known as a hangout for homeless people and sailors on leave. Tattoo parlors, bars, and strip clubs were predominant forms of business.

In 1975, redevelopment plans were created for downtown. In 1985, Downtown underwent more redevelopment with the completion of Horton Plaza, the Gaslamp Quarter revival, and the completion of the San Diego Convention Center. Petco Park, a baseball ballpark used by the San Diego Padres, opened in 2004.

Let's hope for more stories like this as it grows.
TITLE
downtown skyline
PHOTOGRAPHIC EDITIONS
 

(over 20% sold)

 75
0 editions
CANVAS EDITIONS 
(over 15% sold)
300 editions
CREATED
© April 2010