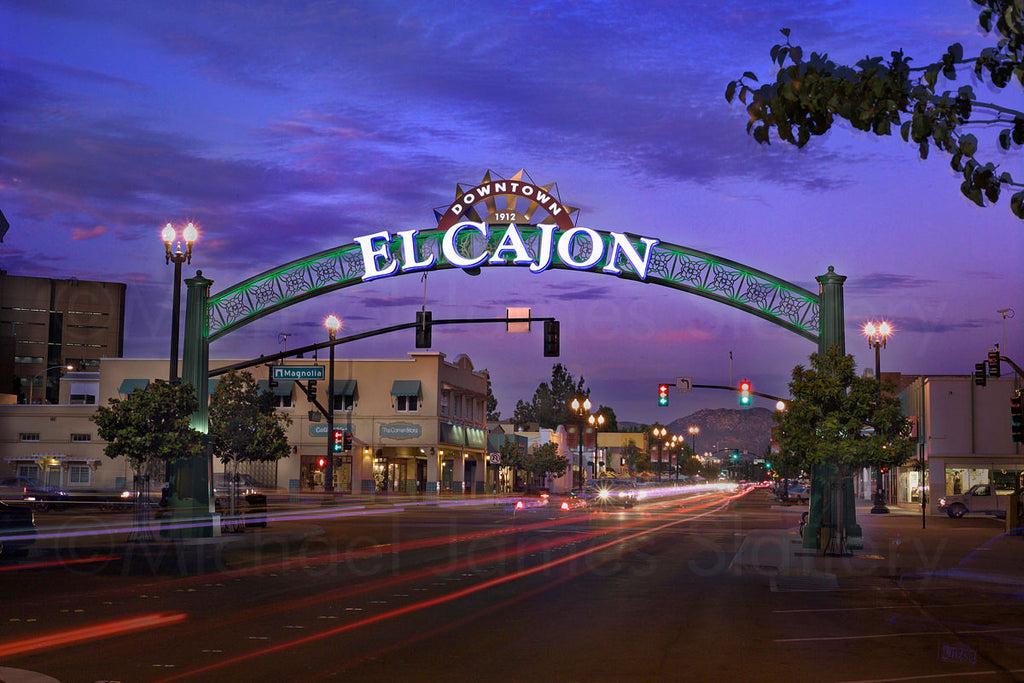 Click Here to Order a Ready to Frame Luster Print
Lighting the gateway of El Cajon is the Downtown Arch Monument. The arch was installed on the night of June 2, and the official lighting ceremony was held at the closing of the Cajon Classic Cruise Car Show on Wednesday, June 10, 2009. I shot this sign on July 16th, 2009.
Funds used to pay for the project came from the El Cajon Redevelopment Agency, which receives tax increment derived from property taxes.
Selected last year by a vote by the public, this decorative arch is held aloft by two metal standards with a dedication and historical plaque on each support column. The name and likeness the town's founder, New Englander Amaziah Lord Knox, has been placed on the historical plaque.
In 1869, Knox arrived in the newly opened-for-settlement El Cajon Valley, the same year gold was discovered in what would become Julian. By 1876, there were enough miners, drovers and others riding and walking from the wharf in San Diego that rough dirt roads were formed through Mission and Paradise valleys and over Grossmont and across the valley on their way to Julian. Where that road turned, at today's East Main Street and Magnolia Avenue, Knox built a small hotel for those who could afford $1 a night for a room, dinner, and boarding their horse. Fittingly, this is where the welcoming arch was installed. Thanks to the arch, after 140 years, Amaziah Lord Knox is still in the middle of it all!

TITLE
el cajon sign
PHOTOGRAPHIC EDITIONS
750 editions
CANVAS EDITIONS
300 editions
CREATED
© July 2009