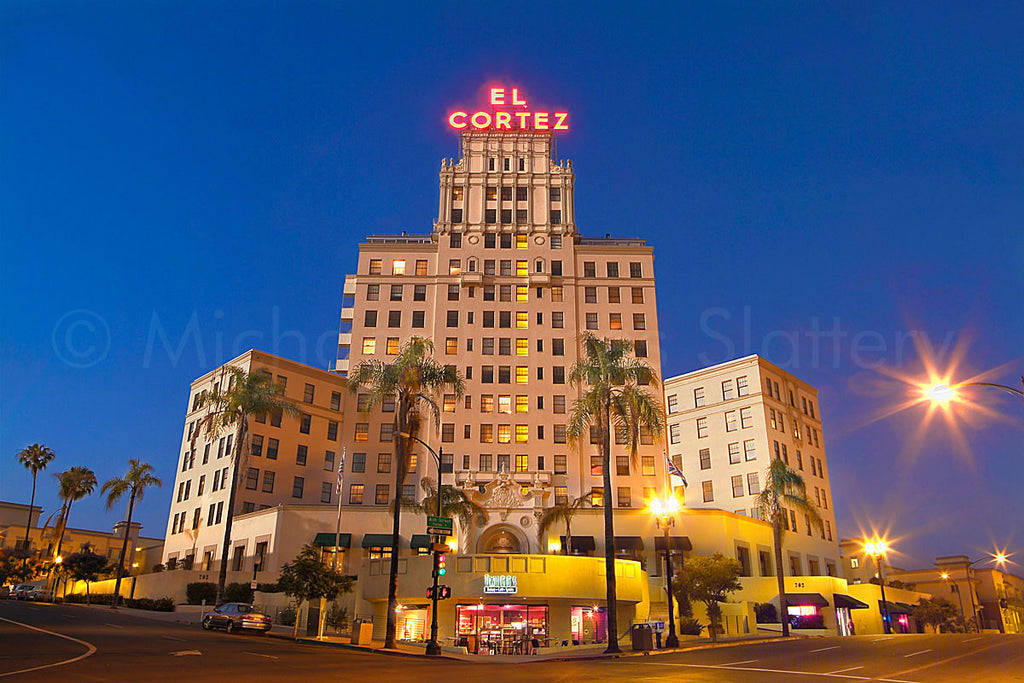 Click Here to Order a Ready to Frame Luster Print
How important this building is often goes unnoticed.  The fourteen-story, reinforced concrete building was originally designed by Los Angeles architects Albert R. Walker and Percy Eisen.  It opened Thanksgiving Day 1927.  That same year they designed the Beverly Wilshire Hotel in Beverly Hills.  Once upon a time the building operated the very first outdoor glass elevator in the world.  It was called the "Starlight Express" because it went to the "Starlight Room" atop the building.  It went straight up the middle of the hotel, had neon starts along it's rails and cost $400,000 to build in 1956.  
As a kid not only did I get to experience this unrestricted platform elevator view above all of San Diego, I also played my first video game, Asteroids, in the Starlight Room the summer of 1976.
I moved in right across the street in 1989.  Already empty for 11 years (closed 1978) it remained so for 11 more years until it was transformed from hotel into residential units representing the original design and re-opened fully renovated.  Where we have been can represent so much of who we are.
TITLE
el cortez
(over 10% sold) 
750 editions
CANVAS EDITIONS
 300 editions
CREATED
 ©January 2005