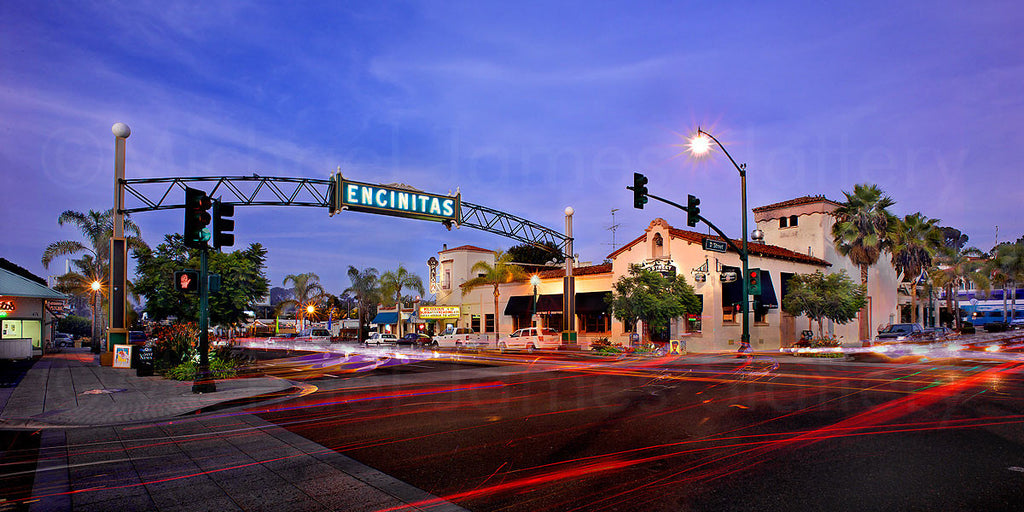 Click Here to Order a Ready to Frame Luster Print
This sign is an icon for visitors and residents alike. The "Encinitas" sign, which hung over Highway 101 from 1928 to 1937, was returned to its perch in 2001, restoring a powerful symbol of the town's identity.
See the theatre under the sign?. The La Paloma was where I watched my first surf flick. I believe it was back in 1982. Wish I remember which one it was.
More importantly on February 11, 1928 La Paloma Theatre opened with the film "The Cohen's And Kelly's in Paris." The gala event was attended by Hollywood starlet and soon to be Academy Award winner Mary Pickford. It has been rumored that she rode her bicycle all the way to La Paloma from Fairbanks Ranch for the event.
Growing up for some reason I have always thought of this town as far away. Shucks it was more than 10 miles from home. Maybe it had to do with a job I had when I was 13. I would get up early in the morning with the milkman and help him. It would take us till lunch to get to this town. Funny how big the world is when you are small - and how small the world gets when you big.
TITLE
encinitas sign
PHOTOGRAPHIC EDITIONS
 (over 15% sold)

75
0 editions
CANVAS EDITIONS
(over 10% sold)
300 editions
CREATED
© December 2008