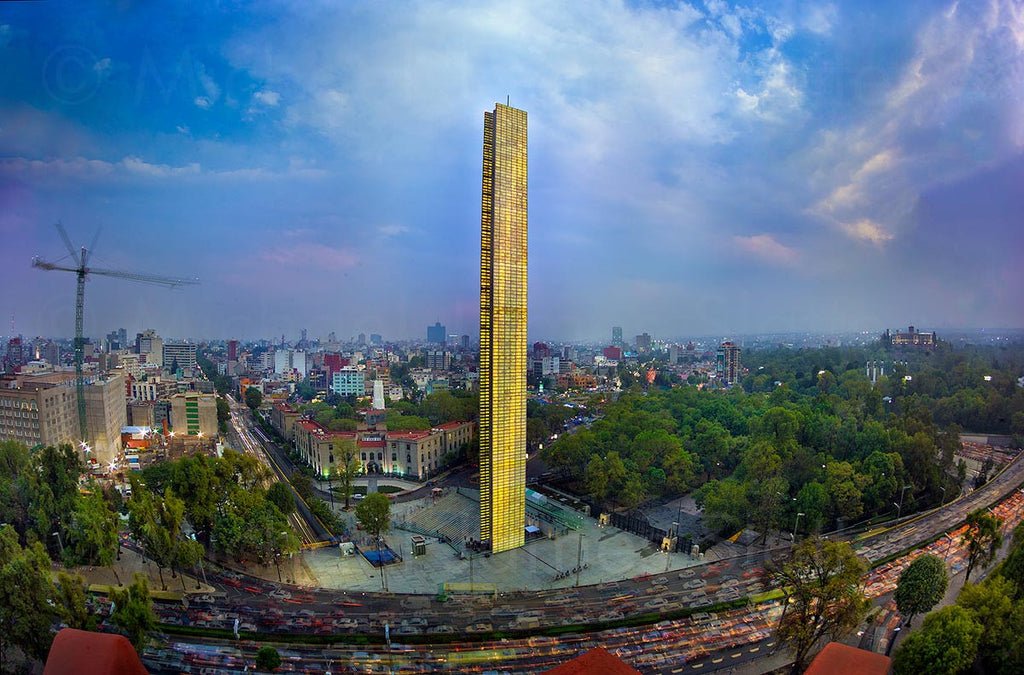 Click Here to Order a Ready to Frame Luster Print
In order to celebrate another milestone somewhere in my mid 40's the best girl in the world, POLA, took me to one of the most incredible places on earth. We ended up in places like the in a bell tower on a church, the top of a skyscraper in the middle of Mexico City DF and looking up at a church built on top of the worlds largest base of a pyramid.
The "Estela de Luz" (Pillar of Light) is a monument in Mexico City built in 2011 to commemorate the bicentenary of Mexico's independence from Spanish rule. Its design was the winning entry in an open contest to seek the best combination of Mexico's past and future. Though it is a tall structure, it was not built to be the tallest and in fact was built near the Torre Mayor which is the tallest building in Mexico. The tower is 104 meters high and contains 1,704 panels formed of two plates of quartz and electric lighting.
The tower was unveiled 16 months after the anniversary it was built to commemorate.
One thing is clear: The Pillar of Light may have a long way to go to be considered like the Angel of Independence, erected in 1910 to mark Mexico's first 100 years but it is something that will forever go down in history. What POLA did that day to make this shot happen was beyond amazing. I know for a fact that not many get to see Mexico from this vantage point and I am very proud to share such a significant vision that happened because of an amazing girl.
TITLE
estela de luz
PHOTOGRAPHIC EDITIONS
750 editions
CANVAS EDITIONS
300 editions
CREATED
© August 2012