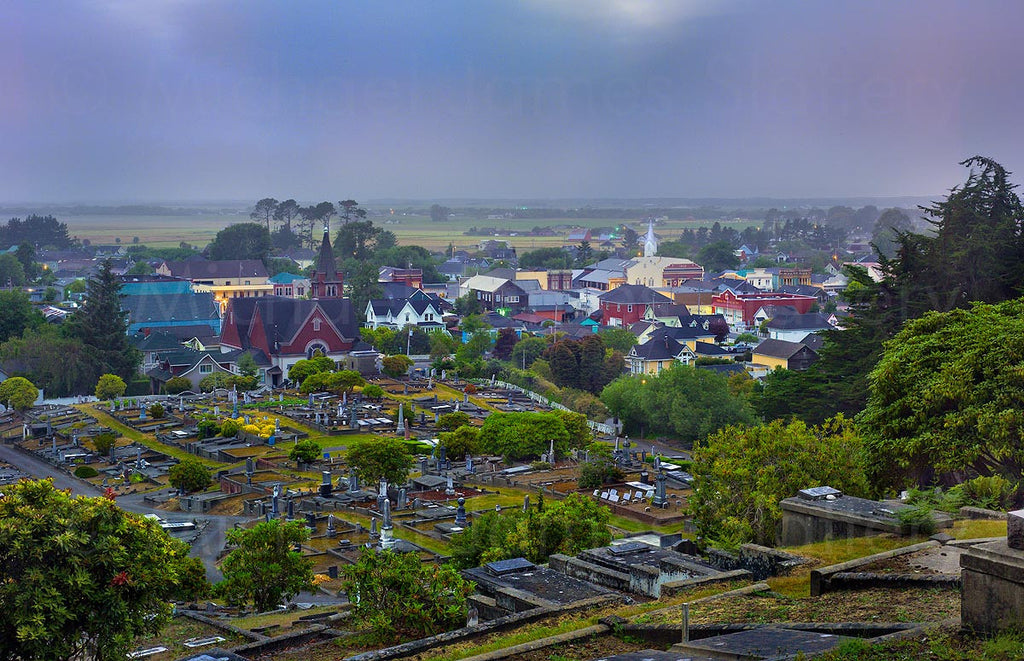 Click Here to Order a Ready to Frame Luster Print
For a two week period, in the middle of the month of July 2011, I took a journey. That started with a view of Vegas and ended with a trip down the California coast.
Back in 2008 the best girl in the world and I took a stroll through Ferndale's cemetery during a Thanksgiving trip to visit my brother and his family. I promised myself I would get a shot of this view that day and on my 2011 trip - I now have it.
The people who founded this town lay here. Some headstones date back to the 1800s.
The cemetery sits on a hill overlooking the town, which affords visitors with panoramic views of the Pacific Ocean, the town of Ferndale, and the Eel River Valley. You'll find the cemetery on Bluff St., just a block away from downtown Ferndale.
In the late 1800s, during the Victorian architectural period, Ferndale blossomed as the agricultural center of Northern California. The prosperous dairy industry provided the economic base for Ferndale, and the blend of agriculture and architecture resulted in the town's splendidly ornate buildings, known as 'Butterfat Palaces.'
During this period Humboldt County was sparsely populated, allowing abundant opportunities for hard-working immigrants. Ferndale became a melting-pot of Scandinavian, Swiss-Italian and Portuguese cultures. The Portuguese Holy Ghost Celebration is an annual event to this day.
The Victorian Village of Ferndale has been able to avoid urban sprawl and pseudo 'old town' renovation to remain a thriving community, virtually unchanged since the 1800s.
TITLE
ferndale cemetery
PHOTOGRAPHIC EDITIONS
750 editions
CANVAS EDITIONS
300 editions
CREATED
© October 2011