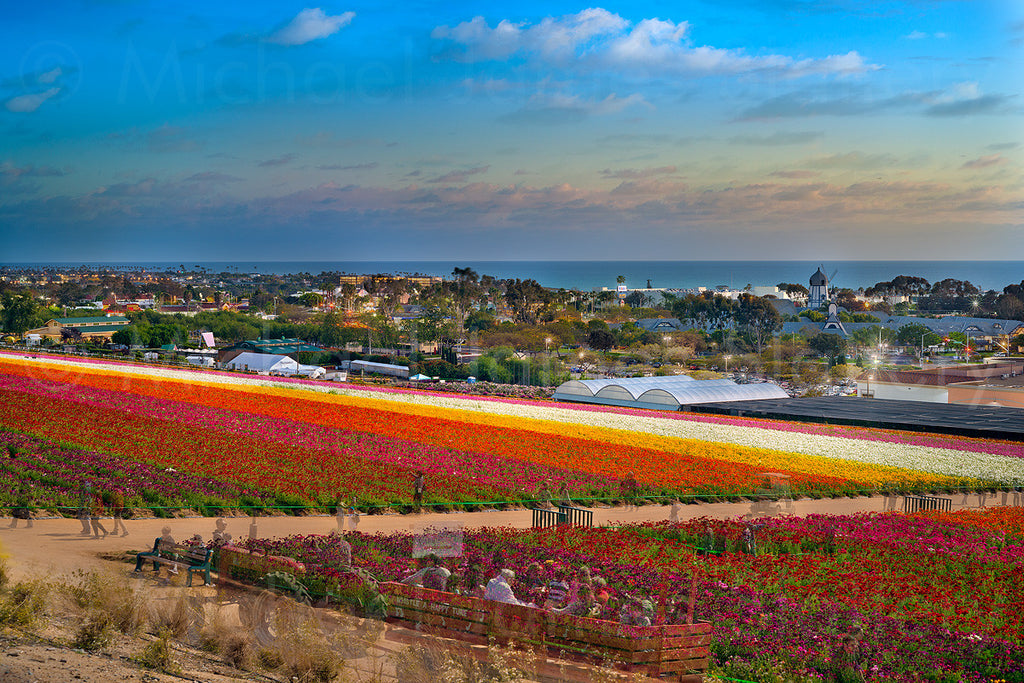 Click Here to Order a Ready to Frame Luster Print
For more than sixty years, Mother Nature has transformed the rolling hills of North San Diego County into one of the most spectacular and coordinated displays of natural color and beauty anywhere in the world.
The nearly fifty acres of Giant Tecolote Ranunculus flowers that make up the Flower Fields at Carlsbad Ranch in Carlsbad, California, are in bloom for approximately six to eight weeks each year - from early March through early May - literally bringing the famous fields back to life.
This annual burst of color, which has become part of the area's local heritage, also is one of nature's official ways of announcing the arrival of spring here in Southern California.
Because the Carlsbad Flower Fields are mostly intended for growing bulbs, they sell only one to two percent of the flowers. That still amounts to almost a million flower stems, which is a small number compared to the six to eight million bulbs they harvest each year.
The field has received anywhere from 100,000 to 200,000 visitors every year. These visitors come from different places in the world. It has been included on many a list of the best places to see Southern California wildflowers.
TITLE
flower fields


PHOTOGRAPHIC EDITIONS
750 editions
CANVAS EDITIONS
300 editions
CREATED
© April 2016