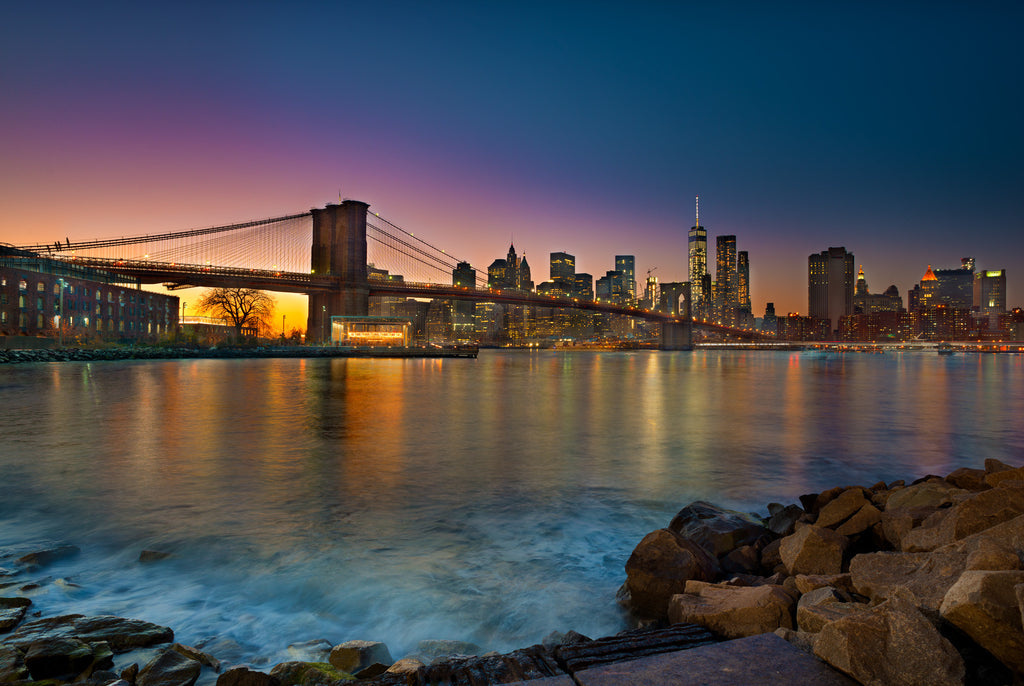 Click Here to Order a Ready to Frame Luster Print
In December of 2015 I took my box van across country. I always dreamed of shooting New York City and I actually failed in this attempted trip a few years earlier. So you can guess I was excited. Funny thing was after the trip I wished I stopped at places I would have never thought of.

So one of the most important things about this day was I found a grocery store in Brooklyn that made fresh squeezed juices from veggies. Oh yea.
The area that is today Brooklyn Bridge Park was once a site of bustling commerce, a transportation terminal, an entry point for immigrants, an artistic center, and finally, a world-class park visited by millions of tourists and New Yorkers every year.
Completed in 1883 the Brooklyn Bridge is a hybrid cable-stayed/suspension bridge in New York City and is one of the oldest bridges of either type in the United States.
The bridge was built with numerous passageways and compartments in its anchorages. New York City rented out the large vaults under the bridge's Manhattan anchorage in order to fund the bridge. The vaults were used to store wine, as they were always at 60 °F (16 °C). This was called the "Blue Grotto" because of a shrine to the Virgin Mary next to an opening at the entrance. When New York magazine visited one of the cellars about 100 years later, it discovered, on the wall, a "fading inscription" reading: "Who loveth not wine, women and song, he remaineth a fool his whole life long."

TITLE
from brooklyn bridge park


PHOTOGRAPHIC EDITIONS
750 editions
CANVAS EDITIONS
300 editions
CREATED
© July 2017