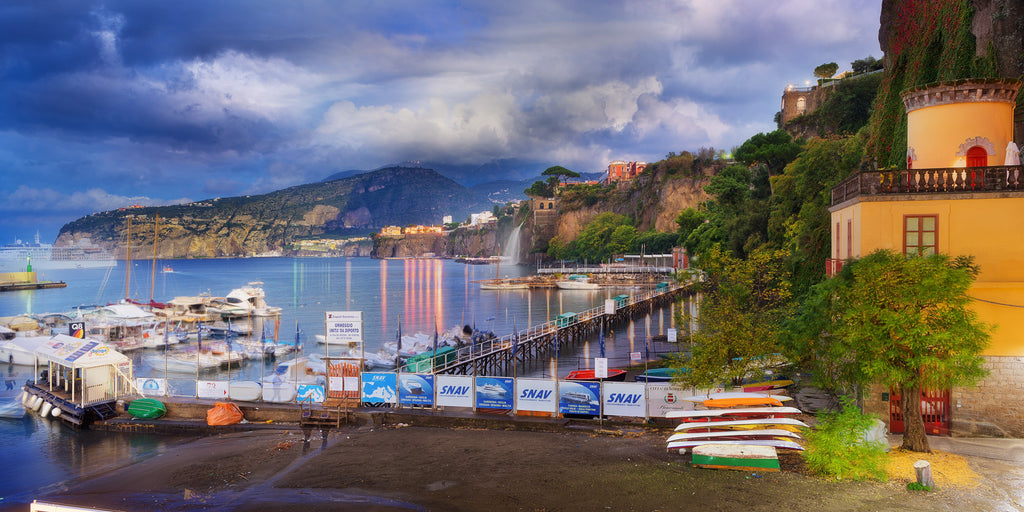 Late October 2016. Time to reap what we sow. It had been near a decade since I sold my first Luminous View. Not quite in the category where folks could call themselves well off - but never the less in a position of some freedom - what would you? The best answer is to travel to far away places. So that is what the best girl ever and I did. We went to Italy and France. It was one incredible time.

Sorrento is a town overlooking the Bay of Naples in Southern Italy. It can be reached easily from Naples and Pompeii. The Sorrentine Peninsula has views of Naples, Vesuvius and the Isle of Capri. Ferries and hydrofoils connect the town to Naples, Amalfi, Positano, Capri and Ischia. Sorrento's sea cliffs and luxury hotels have attracted celebrities including Enrico Caruso and Luciano Pavarotti.

The Amalfi Drive, connecting Sorrento and Amalfi, is a narrow road that threads along the high cliffs above the Tyrrhenian Sea. Pola and I did manage to spent a few days riding a scooter as far south as Maiori along Almalfi Drive. This road is one never forgets.

Another special thing about this place is Limoncello. It is a digestif made from lemon rinds, alcohol, water and sugar which is produced in Sorrento. If you have been here you know it is something else you will forever remember about this incredible place.

Even with the rain being around most of the it is hard to forget how wonderful the world really can be when you are in a place like this.
TITLE
window view in sorrento
PHOTOGRAPHIC EDITIONS
750 editions
CANVAS EDITIONS
300 editions
CREATED
© November 2017