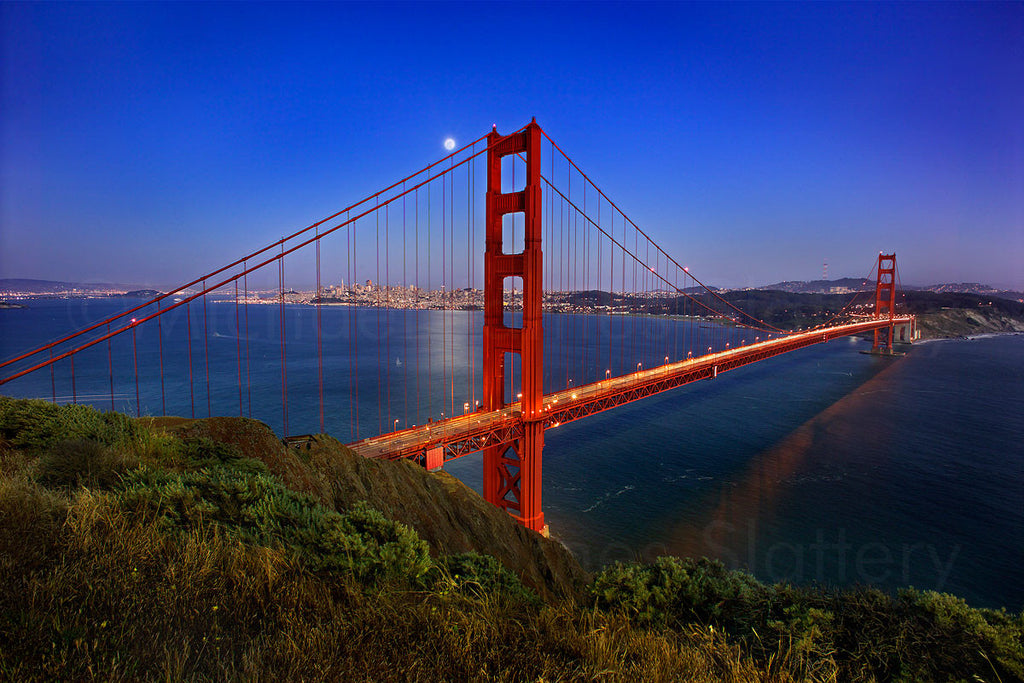 Click Here to Order a Ready to Frame Luster Print
It had been some time since I hit the road. So on a whim, after my best show yet (ArtWALK in Little Italy) I decided I needed to check out a subject matter that many had requested and I knew was a must do.
Construction of the Golden Gate Bridge began on January 5, 1933. The project cost more than $35 million. The bridge-opening celebration began on May 27, 1937 and lasted for one week. The day before vehicle traffic was allowed, 200,000 people crossed by foot and roller skate. On opening day, Mayor Angelo Rossi and other officials rode the ferry to Marin, then crossed the bridge in a motorcade past three ceremonial "barriers". The next day, President Roosevelt pushed a button in Washington, DC signaling the official start of vehicle traffic over the Bridge at noon.
The day I arrived it was typical San Francisco weather. Fog. Visibility 50 feet. That next morning I surfed some decent and cold waves at a little known break called Fort Cronkhite or Cronch. Some how, during that next afternoon into evening, I not only got the close to full moon but one of the clearest nights I could have asked for. That bridge looked as if was glowing like molten iron against the bottomless blue sky. No matter how well an artist can interpret a scene, there is nothing like being there. Glad I went.
TITLE
golden gate bridge
PHOTOGRAPHIC EDITIONS
(over 10% sold)

750 editions
CANVAS EDITIONS
(over 10% sold) 
300 editions
CREATED
© June 2009