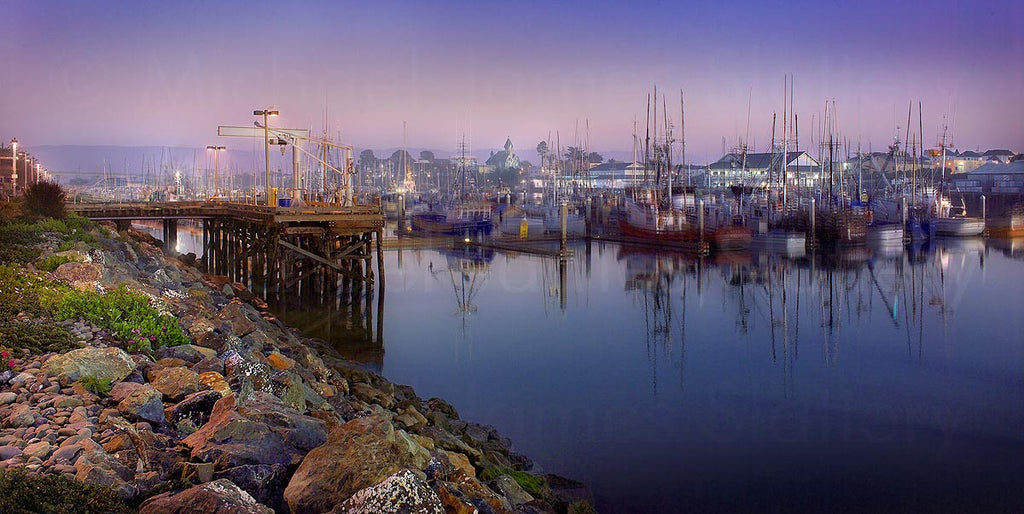 Click Here to Order a Ready to Frame Luster Print
Despite a well-documented 1806 sighting by Russian explorers, the bay was not definitively known by Europeans until an 1849 overland exploration provided a reliable accounting of the exact location of what is the second largest bay in California. The timing of this discovery would lead to the May 13, 1850 founding of the settlement of Eureka on its shore by the Union and Mendocino Exploring (development) companies.
This image is actually the Woodley Island Marina in Humbolt Bay where the family enjoys a meal at the Café Marina at least once every visit.
Woodley Island is a tantalizing land form visible from the city of Humboldt's waterfront. The very small island contains Woodley Island Marina, Humboldt Bay Harbor Recreation and Conservation District U.S. Coast Guard and Corps of Engineers offices, Cafe Marina with fantastic food served indoors or on the sunny patio, W.I. Ship Shop, Celtic Charter Service, Baysail Tours and Hum-Boats Rentals.
In addition to the marina activities and recreation, the island is home to a locally-known landmark statue called The Fisherman, plus Table Bluff Lighthouse dating from 1892.
The city, a major player in the historic west coast lumber trade, is the site of hundreds of significant Victorian homes, including the Carson Mansion (in the far background middle of the image), situated at the head of its Old Town Historic District. Considered one of the highest executions of American Queen Anne Style architecture, the home is the most recognizable landmark on the California North Coast.
TITLE
humbolt bay
PHOTOGRAPHIC EDITIONS
750 editions
CANVAS EDITIONS
300 editions
CREATED
© March 2011