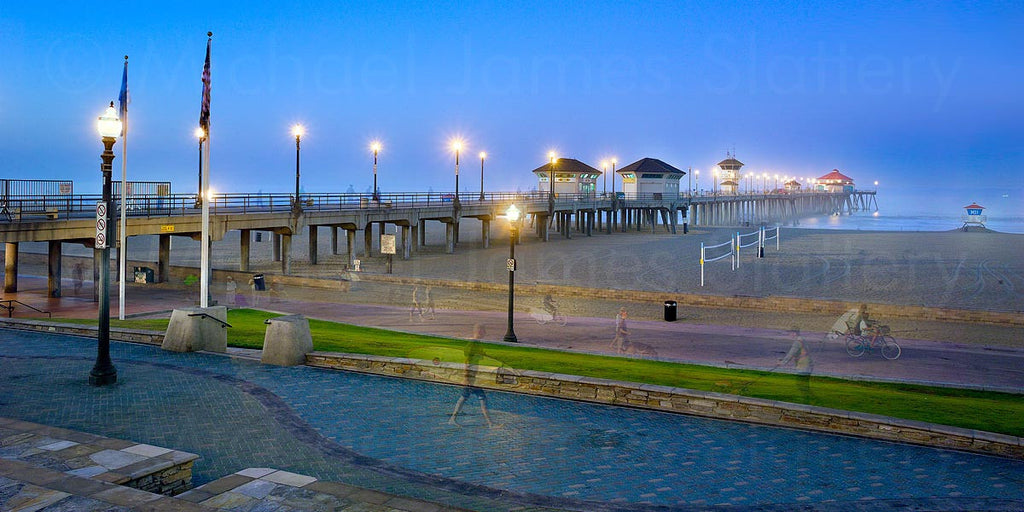 Click Here to Order a Ready to Frame Luster Print
This pier is one of the main landmarks of Huntington Beach, also known as "Surf City, USA" or the "Surfing Capital of the World".

A popular meeting place for surfers, the ocean waves here are enhanced by a natural effect caused by the edge-diffraction of open ocean swells around Catalina Island, creating consistent surf year-round.

In 1914, the Huntington Beach Pier set a record as the longest and highest concrete pleasure pier in the United States. In 1930, the city extended the pier by 500 feet (150 m) and added a cafe at the end. However, this last section was not built well and was separated from the original pier by an earthquake in 1933.

Although the city paved over the gap, a rare California hurricane destroyed the cafe and extended section in 1939. Reconstruction of the pier and End Cafe (what the cafe came to be called) was completed the year later. After the Japanese bombing of Pearl Harbor in 1941, Huntington Beach, along with many other coastal cities, became involved in the World War II effort. The U.S. navy took over the pier for military use by installing a submarine lookout post at the end along with a heavy caliber machine gun.

When the war was over, all military equipment was removed and the pier was returned to the citizens.

This shot was taken on the early morning of September 4th 2013 as I was finalizing subjects for my 2014 calendar. I will always remember this day as it was the first time I got to surf here.
TITLE
huntington beach pier
PHOTOGRAPHIC EDITIONS
750 editions
CANVAS EDITIONS
300 editions
CREATED
© September 2013