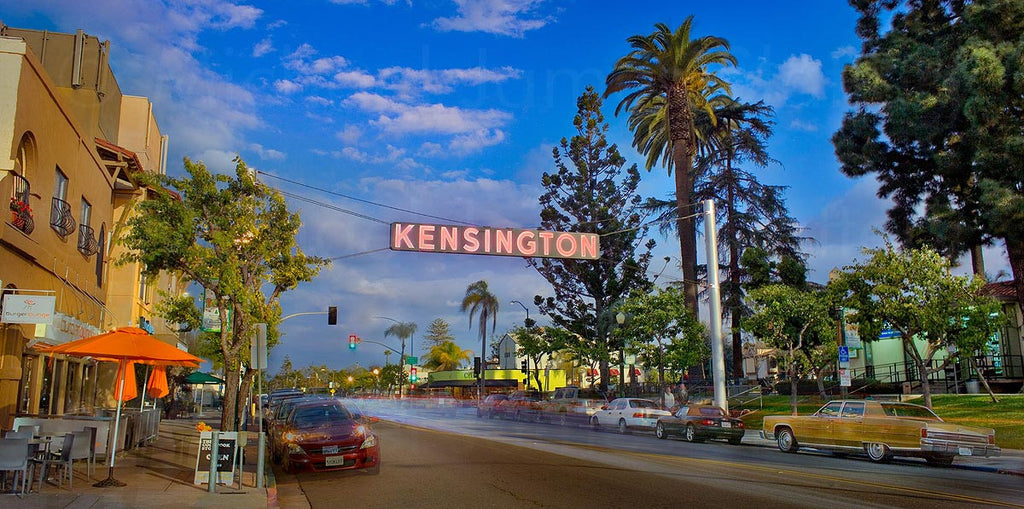 Click Here to Order a Ready to Frame Luster Print
Kensington's borders are defined by Interstate 15 to the west, Interstate 8 to the north, Fairmount Avenue to the east, and El Cajon Boulevard to the south. Its neighboring communities are Normal Heights to the west, Talmadge to the east, and City Heights to the south.

Kensington was founded in 1910 when a map was filed on April 9, 1910. The map contains the name of two sisters who owned the land which became the Kensington Park subdivision. Abby (Hall) Hitchcock and Mary (Hall) Gleason inherited the ex-Rancho Mission land from the estate of their deceased brother and mother. Abby's husband was a realtor, and her brother-in-law was a land use attorney in early San Diego.

The original Kensington neon sign first went up over Adams Avenue in 1953 and acts as the neighborhood's cultural and business center. The sign was one of only two original neon neighborhood signs remaining in San Diego, having been bought and installed by the community in 1953.

A Kensington resident performed the necessary research and submitted it to the City of San Diego's Historical Resources Board for consideration as an historical resource. The City of San Diego's Historical Resources Board voted unanimously on April 24, 2008 to designate the "Kensington Neon Sign" as HRB historic site #865. As a designated historic resource, the sign had to be professionally evaluated for repair or replacement in accordance with the Secretary of the Interior Standards. The sign was found to be in repairable condition, however, the president of the Kensington Talmadge Community Association (KTCA), keepers of the sign, directed a neon sign company to dismantle the old sign, which effectively destroyed the structural integrity such that repair was no longer possible. The City's Historic Resources staff then directed the KTCA to replicate the original sign and install it back above Adams Avenue.

The new sign was unveiled on Nov. 27 just in time for Kensington's 100th anniversary.
TITLE
kensington sign
PHOTOGRAPHIC EDITIONS
750 editions
CANVAS EDITIONS
300 editions
CREATED
© April 2011