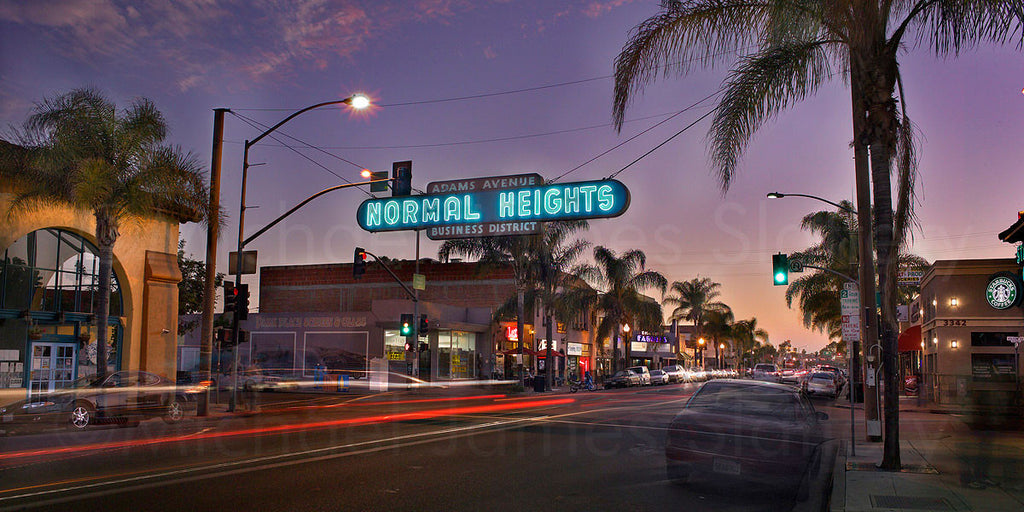 Click Here to Order a Ready to Frame Luster Print
Normal Heights is one of San Diego's oldest suburban neighborhoods. It's a mostly residential neighborhood situated above the southern rim of Mission Valley directly west of Kensington.

The community is alive with a vibrant business district filled with an eclectic mix of antique stores, coffee shops, vegetarian restaurants and used book outlets.

The classic neon "Normal Heights" sign that spans Adams Avenue is one of six such neighborhood signs in District Three communities. The community got its name from the former San Diego Normal School, a teacher-education college that used to be located at the site currently occupied by the San Diego Unified School District administration offices - which is in University Heights. Like reality makes sense.

This neighborhood has gone from middle class to lower class and back more than once in my life time. Shucks homes averaged $500,000 in the middle of 2005 and now in the middle of 2009 they are back down under $200,000.

Along with North Park the tragically hip/eclectic/independent find this part of town familiar and is where one would definitely find diversity in San Diego.
TITLE
normal heights sign
PHOTOGRAPHIC EDITIONS
 

(over 10% sold)

 75
0 editions
CANVAS EDITIONS
 (over 10% sold)
300 editions
CREATED
© July 2009