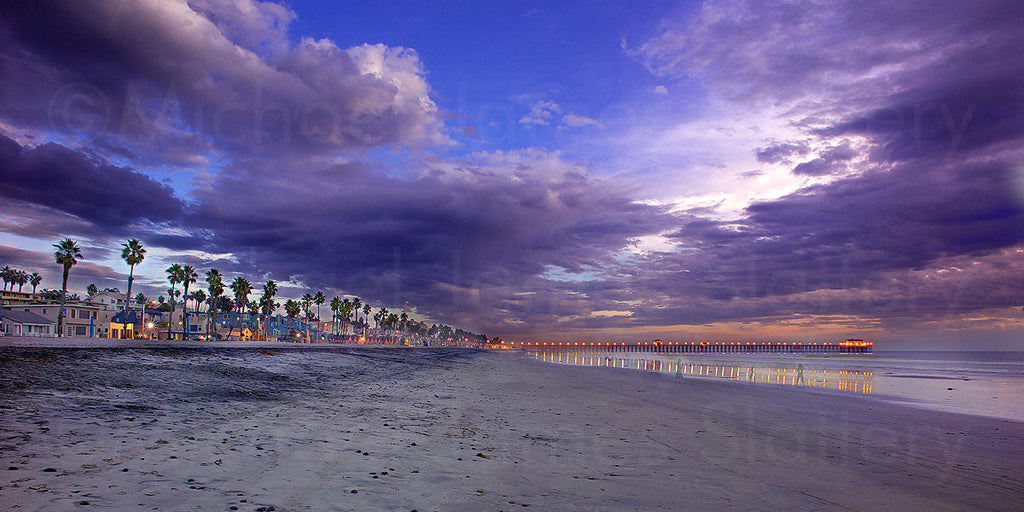 Click Here to Order a Ready to Frame Luster Print
Believe it or not this is one of six piers that have been built in Oceanside since 1888.
It all started when a wharf company was formed in March of 1888 and the proposal of building Oceanside's first pier become a reality. Construction started in May of 1888. A storm destroyed all but 300 feet of this pier in December, 1890. Today during low tide one can still see the pilings left.
In 1894 a second pier was built with iron pilings at a length of 400 feet. It was affectionately called the "little iron wharf". It was damaged severely in 1902 by heavy storms.
Oceanside's third pier was built in 1903. Supported by steel railway rails purchased from the Southern California Railway Co. at $25 a ton, it was nearly 1300 feet long and twelve feet wide. Eventually this structure would again succumb to the merciless waves.
In 1926 a fourth pier was built. When it was dedicated on July 4, 1927 Oceanside threw a three day celebration the likes have not been seen since. Over 20,000 people from all over Southern California came to join in the festivities and to help Oceanside celebrate.
One of the worst storms in Oceanside's history destroyed 385 feet of the pier in 1942. A bond issue of $175,000 was passed in 1946 for construction of the fifth pier. At the time of its construction it was the longest pier on the west coast.
Oceanside's sixth and present pier was dedicated and formally opened to the public September 29, 1987. At a cost of $5 million dollars the pier is 1900 feet long and once again the source of Oceanside's Pride.
TITLE
oceanside pier
PHOTOGRAPHIC EDITIONS
 (over 15% sold)

 75
0 editions
CANVAS EDITIONS
(over 20% sold)
300 editions
CREATED
© November 2008