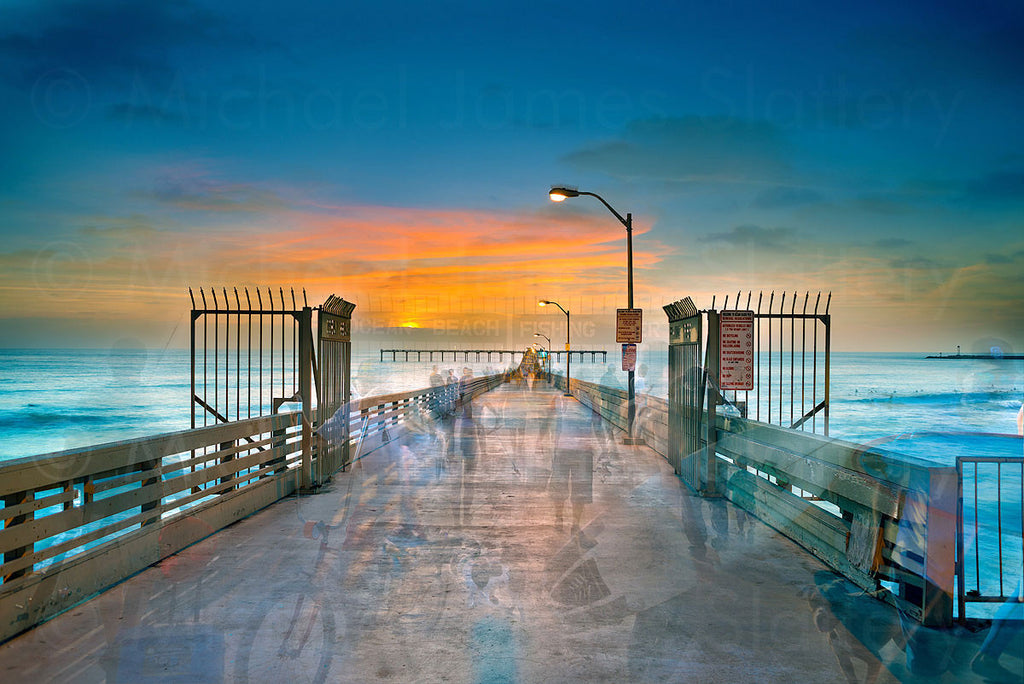 Click Here to Order a Ready to Frame Luster Print
The initial name for Ocean Beach was Mussel Beach, for the mussels available there. Its current name, Ocean Beach, was given in 1887 by developers Billy Carlson and Albert E. Higgins.

Ocean Beach lies on the Pacific Ocean at the estuary of the San Diego River, at the western end of Interstate 8. Located 7 miles (11 km) northwest of the City of San Diego, it sits south of Mission Bay and Mission Beach and directly north of Point Loma. The O.B. community planning area comprises about 1 square mile (742 acres), bounded on the north by the San Diego River, on the west by the Pacific Ocean, on the east by Froude St., Seaside St. and West Point Loma Boulevard, and on the south by Adair Street.  Just in case you needed a clear definition.

Though what clearly gives O.B. one of it's signature definitions is it's pier.

So what a better place to have so many people from so many different places share a stroll, bite to eat, hopes of getting a big fish hooked or watching a sunset on the water.

I haven't spent much time on this pier.  Usually walking on it when the surf is too big to paddle out and it is not too big that they close the pier (though once they really should have). I have surfed under it a few times (even broke a surfboard doing it). 

Considering what this pier has given me though I would have to say this structure has the definition of a signature piece of my work.
TITLE
on o.b. pier
PHOTOGRAPHIC EDITIONS
 

(over 50% sold) 

75
0 editions
CANVAS EDITIONS
(over 20% sold)
300 editions
CREATED
© June 2014