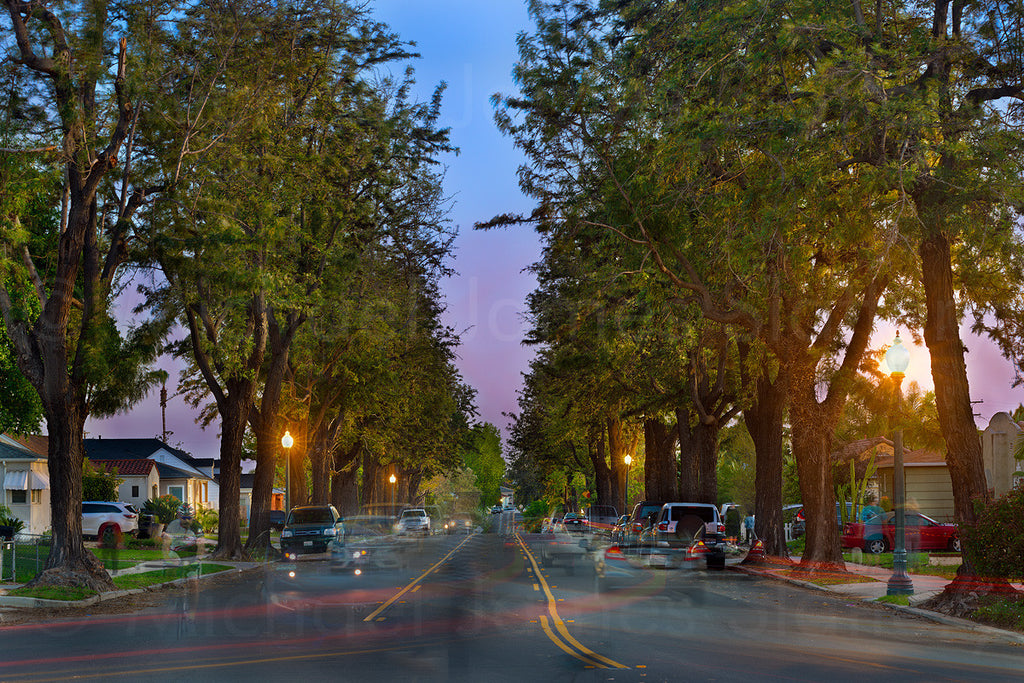 Click Here to Order a Ready to Frame Luster Print
The land known today as Rolando was originally part of the Spanish and Mexican Period Mission San Diego de Alcala rancho lands. The area around Rolando was primarily used for grazing of mission livestock.

It took a few decades after it became part of California that the first homes along this boulevard were constructed in the mid 20s. By the mid-1950s Rolando was a fully developed suburban community with homes, churches, businesses, parks, and schools. The 1920s "Dream Town" became a real community in a generation.

The exclusive suburban design of the Rolando Village area with its 1920s streetlights, "minimal traditional" style homes (such as Colonial, Cape Cod, Tudor, French-Norman, Modern, and California Ranch) and curved streets allowed for the retention of its majority older single-family homes. This is important as other east-side San Diego neighborhoods allowed the 1960s and 1970s to inundate them with scattered apartment buildings that broke up the "suburban design" of such a community.

Today Rolando continues to hold a reputation as a neighborhood which fits the "Sense of Place" and community spirit of its unique heritage.

In 1997 the Rolando Community sponsored the Rolando Community Street Fair. The success of this event and the community response have made this an annual event which draws over 10,000 each March and will have me participating year after year.

Oh - and the Silk Oak trees that line the boulevard in this image are reaching their limit. Enjoy em while you can - in the next decade or so....
TITLE
rolando blvd


PHOTOGRAPHIC EDITIONS
750 editions
CANVAS EDITIONS
300 editions
CREATED
© March 2016