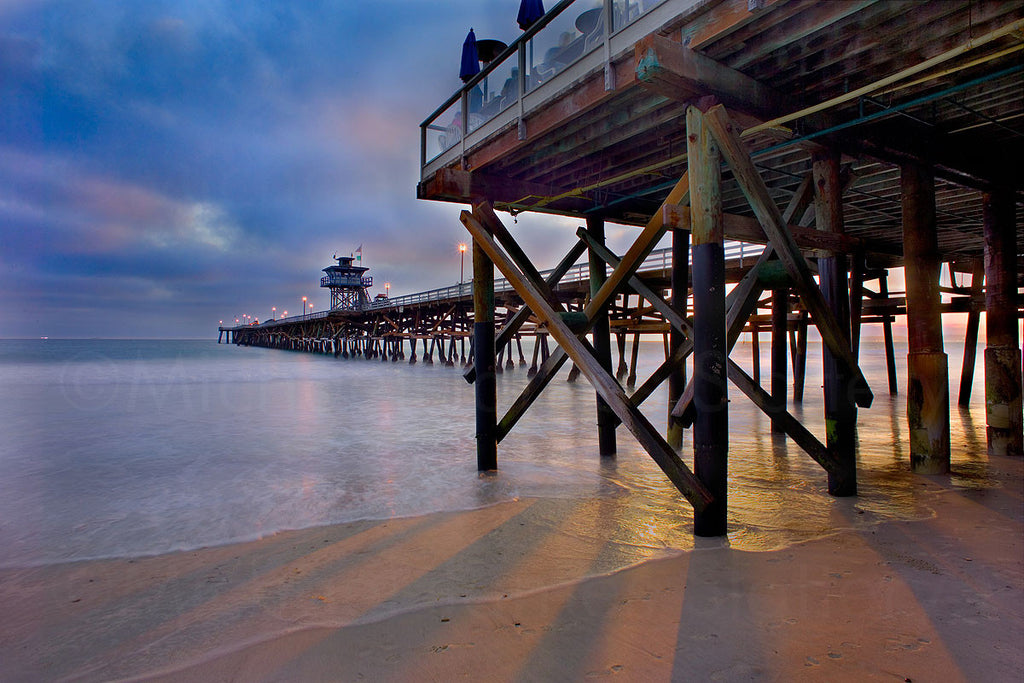 Click Here to Order a Ready to Frame Luster Print
In an effort to expand my horizons I decided to participate in art shows outside of San Diego. And seeing that I was going to be at the 49th Annual San Clemente Art & Craft Fair I figured their pier would be a great subject.
The pier itself was developed by Ole Hanson (real estate developer, politician and San Clemente founder) during the land boom days of the "Roarin' Twenties." His vision foresaw a "Spanish village by the sea," where all the houses were white with red tile roofs. That vision seems to have almost come true.
The pier itself was built in 1928 and apparently was a favorite spot to smuggle liquor into the county during prohibition. The hurricane of 1939 destroyed much of the pier including the cafe, tackle shop, and Owl Boat Co. fishing operation out at the end of the pier. It was rebuilt for a measly $40,000. The killer storms of 1983 tore out 400 feet from the end of the pier and 80 feet from the mid-section area, just past the surf area. When rebuilt, the end section was built 3.5 feet higher, and polyethylene-coated steel piles were used to better withstand winter storms.
It is funny but I felt that the time spent so many miles away seemed just like home.
TITLE
san clemente pier
PHOTOGRAPHIC EDITIONS
750 editions
CANVAS EDITIONS
300 editions
CREATED
© August 2009