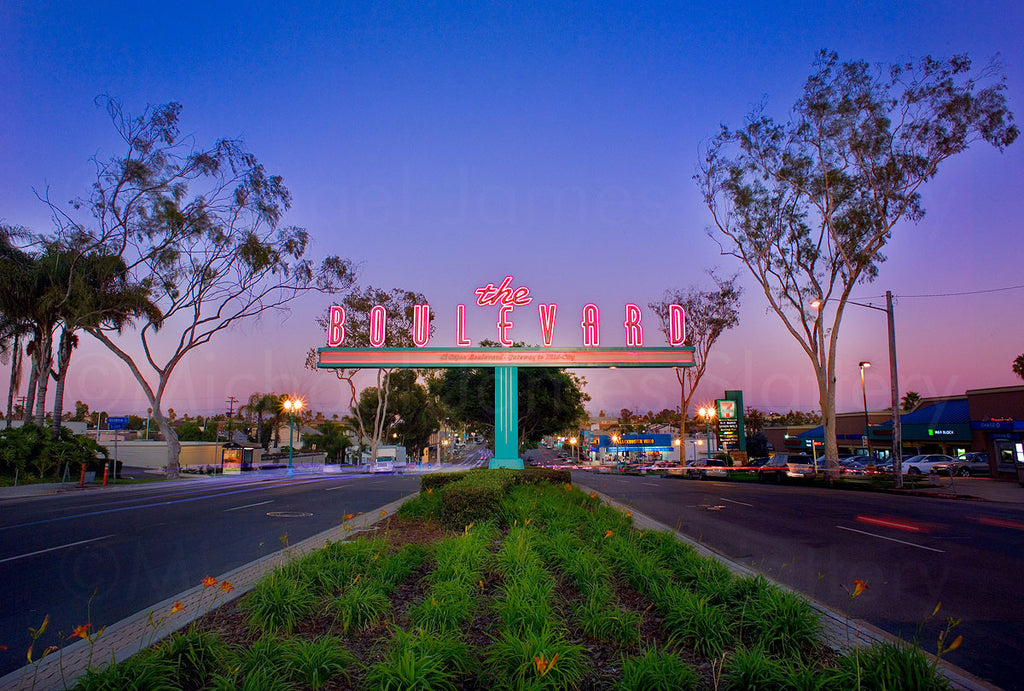 Click Here to Order a Ready to Frame Luster Print
The first thing I have to say is that when I typed 'san diego el cajon boulevard sign' into google, on October 30th 2009, the first thing that came up was an article about prostitution. This area has always been synonymous with this activity my entire life.
Never the less March 2009 marked the 20th Anniversary of The Boulevard gateway sign. This monumental occasion has come to represent 20 years of progress and revitalization. With the establishment of the El Cajon Boulevard Business Improvement Association, the last 20 years has seen the area's reemergence as a retail, and more recently, residential destination. Since the installation of the sign, the Association has installed 165 ornamental streetlights, landscaped miles of medians, repaired sidewalks, and planted hundreds of trees.
Drive-in restaurants, malt shops and drag races are images from the good old days of an evening drive down the bright and colorful Boulevard. These fond memories are for those who were in San Diego during the 1940s through the 1960s.
To recognize its 20th Anniversary, the Association had the Boulevard sign freshly painted, and repainted the165 ornamental streets lights that line El Cajon Boulevard from Park Boulevard to 54th Street in the district's signature teal color.
It's working if you ask me.
TITLE
the boulevard
PHOTOGRAPHIC EDITIONS
750 editions
CANVAS EDITIONS
300 editions
CREATED
© October 2009