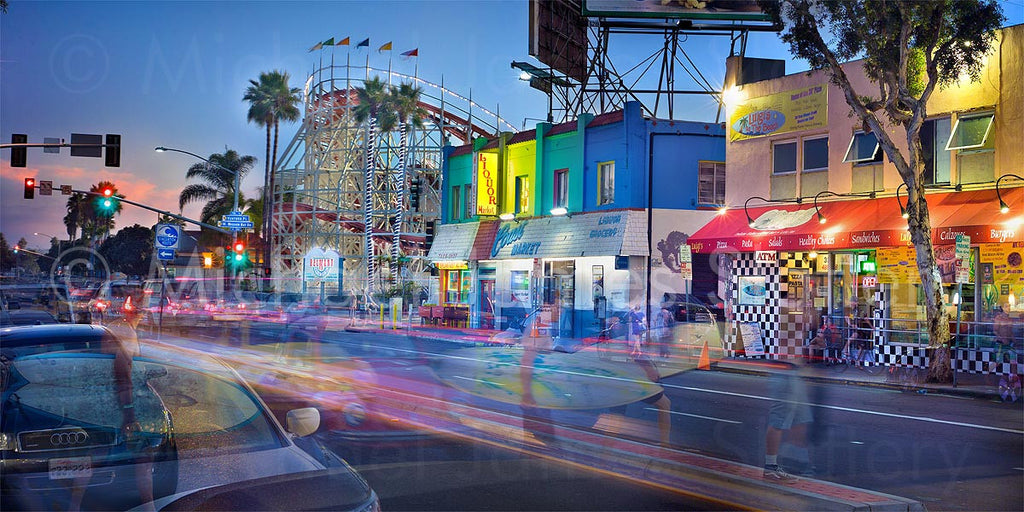 Click Here to Order a Ready to Frame Luster Print
This shot was inspired by a painter.

Learning about what it means to be independent when one first removes themselves from the 'comforts' of home can provide many impressions.

Much of the age demographic here are in their early 20's (and many still living like they are). During the summer months this specific area has a traffic flow (vehicle and pedestrian) that is prolific. A large number of these folks are college students. Impressions about this area are significantly varied.

The first time I saw this area was as a kid with my Mother. We got some of the best produce at a market that is now condos. Later as someone who just turned 21 I accomplished many 'firsts' around the area. Today I visit as someone who occasionally stops by to check surf when it's not so good at Scripps or O.B.

When I remember all the times spent here it is the one place that has changed a ton in regards to what it has to offer me.

Yet I bet the painter who painted the image, from the 80's that inspired this image of mine, would not notice much difference in how it looks years later.
TITLE
west mission bay drive
PHOTOGRAPHIC EDITIONS
 

(over 30% sold)

 

75
0 editions
CANVAS EDITIONS
(over 30% sold)
300 editions
CREATED
© October 2012