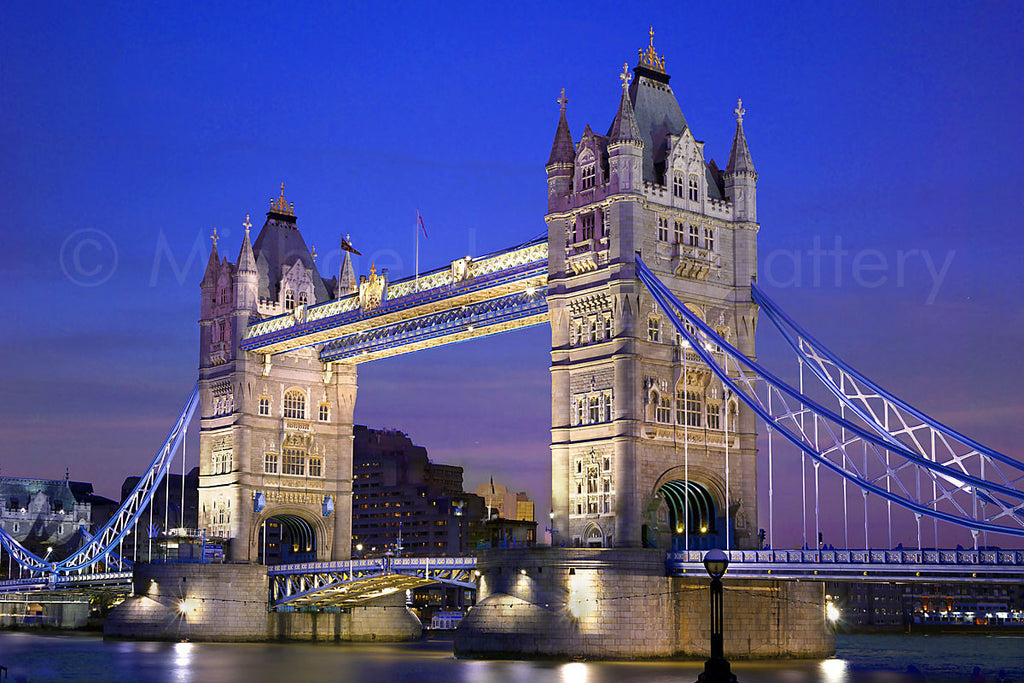 Whenever someone visits a great city they find more than a couple of iconic places or structures related to the place´s long going history. There is no way of missing them, since they have become so merged with popular local culture that everyone tells you where they are and why you should visit them. There are so many images taken from those kinds of places that it's almost impossible not to notice them as you approach – and here lies the greatest challenge of a fine art photographer: the representation of an Icon from an original point of view.
Michael James Slattery, is a well-known photographic artist from California and founder of Luminous Views Gallery in San Diego. He toured several of Europe´s most important cities back in 2005 in an adventure that took him thru the United Kingdom, Turkey, The Netherlands, Austria, Switzerland and France. As with any well-resourced traveler, Michael recorded a visual journal of his trip with photos from each place he visited. Several of them were in fact taken at these iconic European places that are now part of the World´s History, so capturing their essence in an original way became a motivating challenge for the artist.
While in London, Michael decided to go for a unique capture of the Tower Bridge. One of the city´s renowned structures dated from 1894 and preserved thanks to the City of London Corporation´s charitable trust. It crosses the Thames River in a location near the famous Tower of London, hence the name of this magnificent bascule and suspension bridge. Its external appearance maintains all of its glory thanks to the British commitment to their historic legacy, and it's accompanied by the bridge´s superb operating machinery (quite advanced in its time, and preserved with only a few modern add-ons that guarantee perfect functionality).
Light Painting Photography, Michael´s self developed method, consists in a meticulous image construction method. At the start of the afternoon, the Fine Art Landscaping artist arrives at the desired destination with all of his gear. After locating the previously scouted spot, he proceeds to mount his equipment and starts a several hours of short and long exposure capture in order to capture how light dances around the monument as the Sun travels thru our Earth´s sky.
He works for five - fourteen or more hours until the the Sun hides below the horizon and all the car house and street lights illuminate the scene. Michael captures a complex palette of colors that will later be used for the composition of the final image. It is thru a selective process and a keen eye that the artist manages to not only show a unique point of view of the monument, but also show a visual dance of tones only appreciated thru a method that combines those elements into a Fine Print he personally produces. It is the ultimate combination of time, light and keen eye. This is the modern canvas.
But as with any Fine Art Piece, the limited reproduction of Michael´s work can only be materialized thru selected materials – hence the use of a special duck woven, double layered cotton acid-free canvas which has also been enhanced with polymers to make it extremely durable and yet maintain flexibility. Besides not being able to crack, the white finish on this canvas secures the correct representation of bright whites among the colors used during the creation of the Light Painting Photography piece. This, in combination with a precisely powerful pigmented ink printer and the use of fine grade color inks, grants the quality of a superb work only found on Luminous Views Gallery´s Fine Art Print collection.

You can admire this and many other fine art photography prints from Slaterry´s work at Luminous Views Gallery at 1815 Fifth Ave, San Diego, CA 92101. It is by appointment but you can find Michael there on most typical weekdays from midday till about dark. For more information about the "Tower Bridge" print, follow this link here.
You can also contact Luminous Views Gallery via email sales@luminous-views.com and via phone on +1 (619) 231-9061.
Follow Luminous Views on social media: Facebook, Instagram and YouTube.