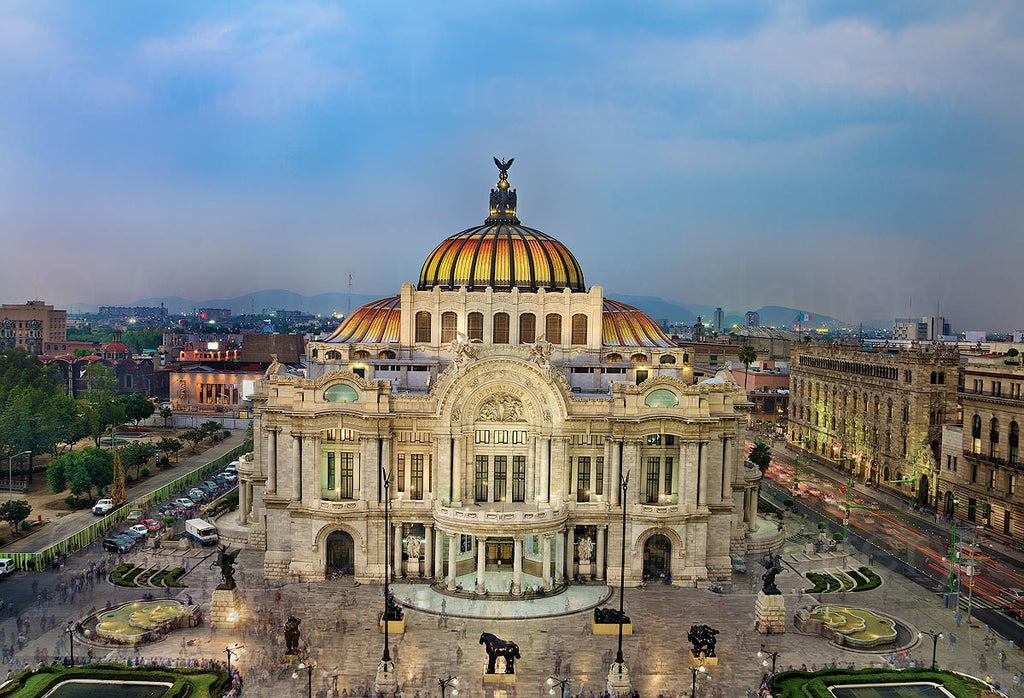 Click Here to Order a Ready to Frame Luster Print
In order to celebrate another milestone somewhere in my mid 40's the best girl in the world, POLA, took me to one of the most incredible places on earth. We ended up in places like the in a bell tower on a church, the top of a skyscraper in the middle of Mexico City DF and looking up at a church built on top of the worlds largest base of a pyramid.

After a tour of the city it was an obvious choice to start with a capture of Palacio de Bellas Artes. This shot was taken from the coffee shop directly across the street on top of the Sears shopping center.

The palace has a mixture of a number of architectural styles; however, it is principally Art Nouveau and Art Deco. Art Nouveau dominates the exterior, which was done by Adamo Boari, and the inside is dominated by Art Deco, which was completed by Federico Mariscal. The main facade, which faces Avenida Juárez, is made of white Italian Carrera marble and the warm colors of the dome are stained glass.

Since construction began in 1904, the theater (which opened in 1934) has sunk some four meters into the soft soil of Mexico City.

The Palace has been the scene of some of the most notable events in music, dance, theatre, opera and literature and has hosted important exhibitions of painting, sculpture and photography. It has hosted some of the biggest names from both Mexico and abroad.
TITLE
palacio de bellas artes
PHOTOGRAPHIC EDITIONS
750 editions
CANVAS EDITIONS
300 editions
CREATED
© August 2012