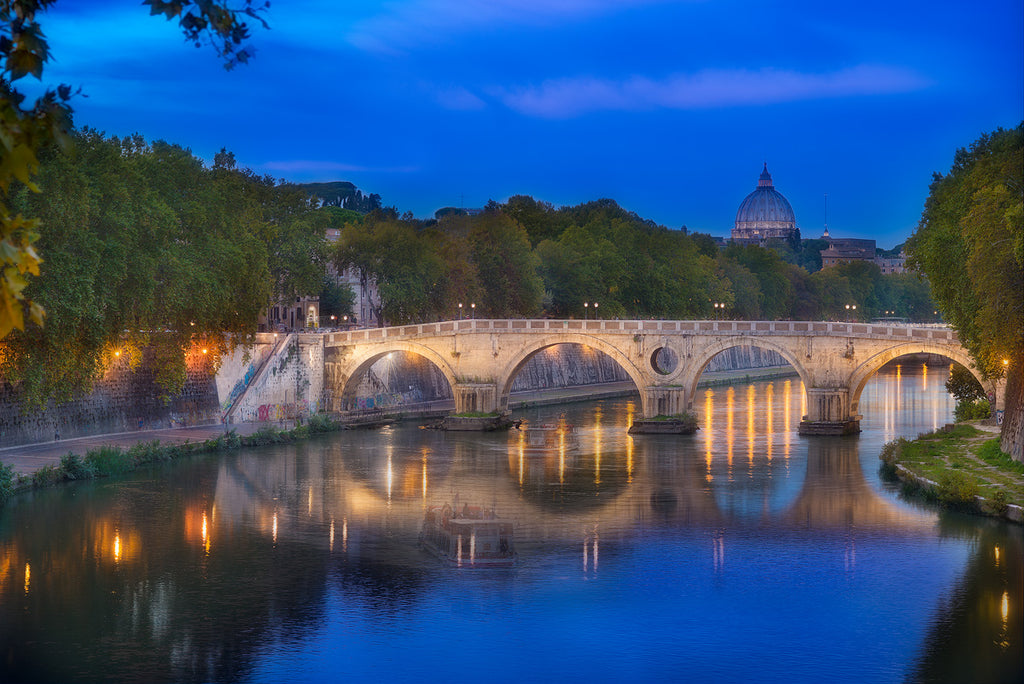 Click Here to Order a Ready to Frame Luster Print
Late October 2016. Time to reap what we sow. It had been near a decade since I sold my first Luminous View. Not quite in the category where folks could call themselves well off but never the less in a position of some freedom. What do folks do with the opportunity? Travel to far away places. So that is what the best girl ever and I did. We went to Italy and France. It was one incredible time.
Ponte Sisto is a bridge in Rome's historic center, spanning the river Tiber. It connects Via dei Pettinari in the Rione of Regola to Piazza Trilussa in Trastevere. The construction of the current bridge occurred between 1473 and 1479, and was commissioned by Pope Sixtus IV (r. 1471-84), after whom it is named. The architect was Baccio Pontelli, who reused the foundations of a prior Roman bridge, the Pons Aurelius. That bridge had been destroyed during the early Middle Ages.
Currently traffic on the bridge is restricted to pedestrians. The Ponte Sisto connects the lively and popular Campo de' Fiori area (reached through via dei Pettinari) and via Giulia with Piazza Trilussa in Trastevere. Many young Romans and tourists gather for an aperitivo on a Friday night, a cappuccino during a work day or a gelato on a hot day. What ever day it is it's always a good day to be here.

TITLE
ponte sisto to st. peter

PHOTOGRAPHIC EDITIONS
750 editions
CANVAS EDITIONS
300 editions
CREATED
© October 2017