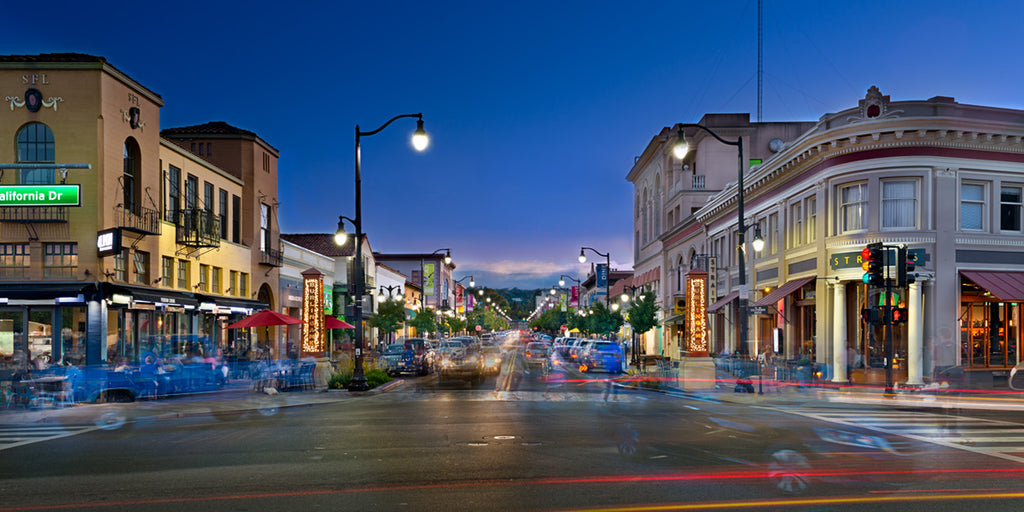 Click Here to Order a Ready to Frame Luster Print
Burlingame is a city in San Mateo County, California. The city is named after diplomat Anson Burlingame and is often referred to as the City of Trees due to its numerous eucalyptus groves. Burlingame is known for its high residential quality of life with a walkable downtown area and excellent public school system. In August, 2017, the median home value in Burlingame was $2.05M.
Burlingame, CA is one of the most beautiful cities in the San Francisco Bay area and is often called the "City of Trees" thanks to an Francisco-based merchant William Davis Merry Howard. Howard planted many eucalyptus trees on his property and retired to live (and ultimately die) among its numerous eucalyptus trees in the mid 1850's.
Burlingame perfectly captures the true Californian Spirit. The laid-back vibe of Burlingame will make you forget that it's so close to Silicon Valley and the always smiling people will help you feel at home. And one of the most famous areas of Burlingame is the beautiful Burlingame Avenue, which is a meeting place for residents who want to windowshop, enjoy a refreshing beverage or just take a stroll in downtown Burlingame.
Indulge Yourself NOW & Add A Stunning View Of Real California To Your Home!
TITLE
burlingame avenue
PHOTOGRAPHIC EDITIONS
750 editions
CANVAS EDITIONS
300 editions
CREATED
© March 2018