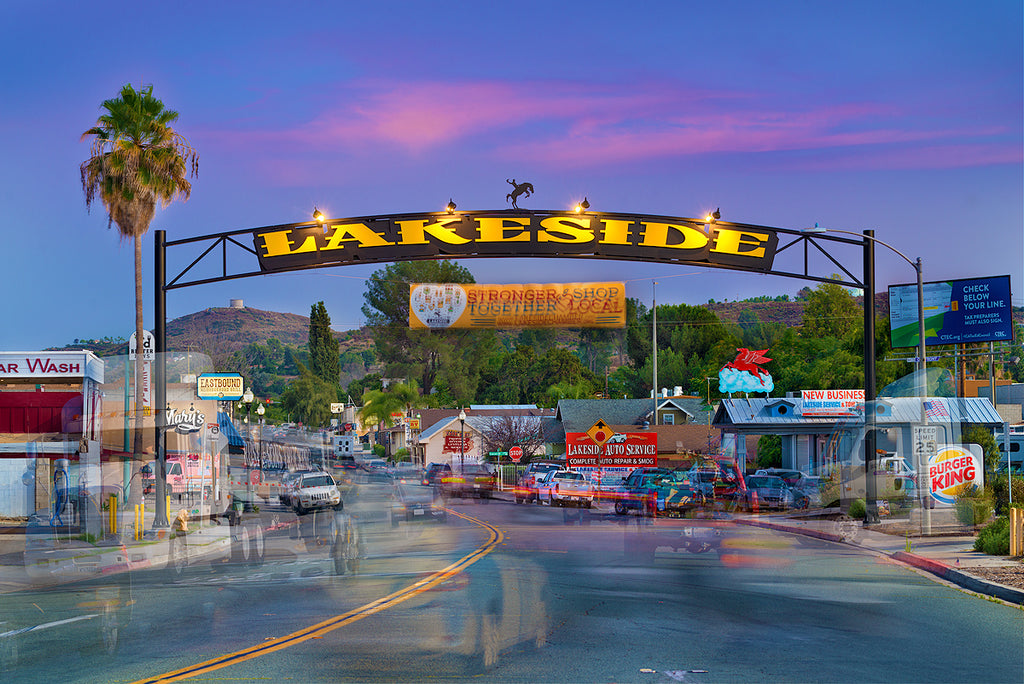 Click Here to Order a Ready to Frame Luster Print

It's big, bold and has rustic gold letters in a fancy font that is quintessential Lakeside. I love this sign.

I have to admit this was a commissioned work made possible by Rust & Sons Trucking. You can see two of their rigs passing by on both sides of the image.

The sign came be on behalf of the Lakeside Chamber of Commerce and nonprofit Helping Our Way. They worked for more than eight years in support of this sign, collecting money and lobbying the county to finally it have erected in July 2019.

The sign stretches across Maine Avenue near the heart of Lakeside's business district. There will be no mistaking that you have reached the East County burg with the 67-foot-wide sign's placement just off Highway 67 at Mapleview Street.

It was July 5, 1920 when the first Lakeside Rodeo was organized by Bill Kuhner. It's location was on the Emil Klicka property south of Lindo Lake. In 1933, the Lakeside Rodeo Association was formed and the arena was moved to an area east of Channel Road. A grandstand was built, and chutes and fences were installed.

Today, the annual rodeos are organized by the Lakeside Stadium Association and are held at the new rodeo grounds on Mapleview Avenue just across from this sign.

If there ever was a cowboy culture in San Diego Lakeside is it.

TITLE
lakeside sign


PHOTOGRAPHIC EDITIONS
750 editions
CANVAS EDITIONS
300 editions
CREATED
© May 2021